An Overview of Airports in Istanbul
Airports in Istanbul serve as crucial gateways to this vibrant city that bridges Europe and Asia. Understanding the airports' layout, facilities, and services is essential for a seamless travel experience. Istanbul boasts three primary airports: Istanbul International Airport (IST), Sabiha Gokcen International Airport (SAW), and the now-closed Atatürk Airport.
Let's explore the key features of these airports and how they can enhance your journey.
Make Your Airport Experience Better
To enhance your time at Airports in Istanbul, consider these practical tips. If you're transferring between airports, the Airport Shuttle service provides a hassle-free solution. If you're looking for an efficient ride to the city center, the metro and taxi options are readily available. During layovers, explore nearby attractions, such as the historic Grand Bazaar, to immerse yourself in Istanbul's rich culture.
As we dive deeper into each airport's unique features and explore the best ways to navigate them, you'll be equipped with the knowledge to make the most of your visit. From shopping to dining and everything in between, Airports in Istanbul offer a glimpse of the city's hospitality and charm before you even step out.
Stay tuned as we uncover more about these airports and help you navigate your way through this bustling travel destination.
Istanbul International Airport (IST)
Welcome to Istanbul International Airport (IST), a bustling hub that connects the world to the enchanting city of Istanbul. As a central gateway to Turkey, this airport offers an array of amenities and services designed to make your travel experience as comfortable and seamless as possible.
At Istanbul Airport, travelers are welcomed with a wide range of facilities catering to various needs. From shopping boutiques featuring global brands to delectable dining options showcasing both local and international cuisines, the airport ensures a delightful stay. Additionally, lounges provide a space for relaxation and work, while prayer rooms offer a serene escape.
Boasting an expansive expanse of 76.5 million square meters, Istanbul Airport is a marvel of engineering and design. This vast area, slightly larger than the city of Leicester in the UK, accommodates five distinct concourses—A, B, D, F, and G. While concourses A, B, D, and F cater exclusively to international flights, concourse G caters to domestic flights, ensuring seamless travel experiences for passengers of all origins.
Where is Istanbul Airport?
Situated on the European side of Istanbul, precisely in Arnavutköy, Istanbul Airport is strategically positioned approximately 40 kilometers (25 miles) away from the historic core of the city. This location not only provides easy access to the heart of Istanbul but also grants travelers a picturesque aerial view as they approach or depart the airport.
How Many Terminals in Istanbul Airport?
Wondering how many terminals there are at Istanbul Airport? The airport is divided into several terminals, each dedicated to specific airlines or regions. This division ensures efficient navigation and streamlines your journey. Whether you're departing, arriving, or transferring, the terminal setup ensures a smooth and organized experience.
shopping at Istanbul Airport
As you step into Istanbul Airport, you're not just entering a travel hub; you're immersing yourself in a world of shopping delights that cater to your desires and offer a taste of Turkey's vibrant retail landscape. From renowned international brands to Turkish treasures, Istanbul Airport's shopping scene is an experience to cherish.
Istanbul Airport's Duty-Free Shopping
The allure of duty-free shopping at Istanbul Airport is a temptation that's hard to resist. Immerse yourself in a world of premium products, all available at duty-free prices that promise a delightful shopping experience. Uncover the Istanbul Airport duty-free area where perfumes, cosmetics, chocolates, and more await your discovery. It's not just shopping; it's a journey into an exclusive realm of luxury and savings.
Unveiling Affordable Luxury at Istanbul Airport
Curious about duty-free Istanbul Airport prices? You'll be pleasantly surprised by the affordability of the offerings. Discover top-notch brands and products that suit every budget, making your shopping spree all the more enjoyable. From a quick souvenir to a luxurious gift, the choices are abundant and the prices, enticing.
Family First at IST Airport
Traveling with your loved ones? Istanbul Airport (IST) has crafted a family-friendly haven that caters to families and kids of all ages. As you embark on your journey, you'll find a range of thoughtful amenities that make your family's travel experience smoother and more enjoyable than ever before.
Here are some of our cherished features that truly define the family-friendly essence of Istanbul Airport:
Convenient Parking: Family-friendly parking spots near entrances and elevators make arrival and departure hassle-free.
Efficient Security: Exclusive security lanes for families with kids aged 0-5 ensure a swift process.
Comfort Stations: Family and baby care rooms with nursing areas and changing stations provide a peaceful space.
Playful Playgrounds: Aviation-themed playgrounds near gates keep little ones entertained.
Easy Mobility: Complimentary strollers and buggy services enhance mobility for families with infants and toddlers.
Swift Lines: Fast pass zones prioritize families, saving time during queues.
Teen Retreat: The Youth Lounge offers Wi-Fi, Play Station, games, and comics for older kids.
Hotels at Istanbul International Airport
Looking for a comfortable stay right at Istanbul Airport? Look no further than YOTEL Istanbul Airport Hotel. With a total of 451 rooms, this hotel offers a seamless and relaxing experience for travelers.
Landside Comfort: The hotel provides 171 rooms landside, open for booking to all travelers. Whether you're arriving or departing, these rooms offer a convenient and cozy stay.
Airside Exclusivity: For those with international flights to or from Istanbul Airport, YOTEL offers 280 airside rooms. These rooms are strategically located within the Duty Free area, providing a unique and accessible experience. Remember, access to airside rooms is granted after passing through passport control.
Transportation Options from Istanbul Airport to City Center
Upon arrival at Istanbul Airport, you'll find various transportation choices to reach the vibrant heart of the city. The airport is well-connected to Istanbul's metro system, providing an affordable and convenient way to access key areas. Taxis and shuttle services are also readily available, offering personalized options to suit your preferences.
Sabiha Gokcen International Airport (SAW)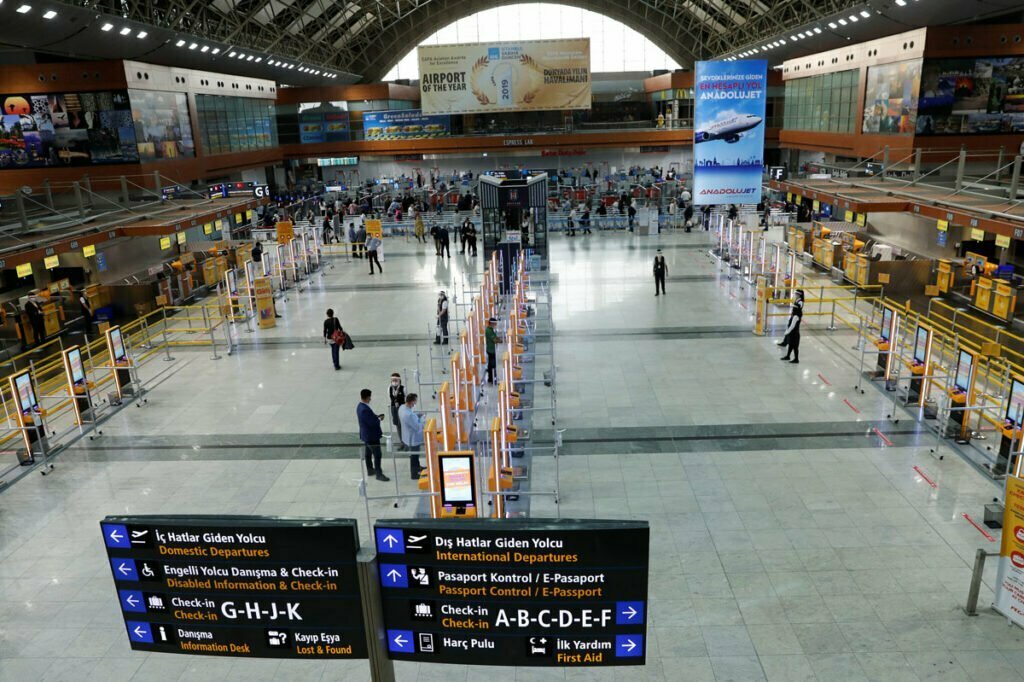 Sabiha Gokcen Airport's strategic location on the Asian side of Istanbul offers convenience to travelers from various parts of the city. Its accessibility ensures that visitors can effortlessly navigate to and from the airport, making it an optimal choice for both domestic and international flights.
The airport is conveniently accessible from different areas of Istanbul, and travelers have multiple transportation options at their disposal. Taxis, private shuttles, and public buses are readily available for commuting to and from Sabiha Gokcen Airport. Its strategic position guarantees that passengers can easily connect from diverse areas of the city, streamlining their travel experience.
Getting to Sabiha Gokcen International Airport
Sabiha Gokcen Airport is conveniently accessible from various parts of Istanbul. Visitors can use taxis, private shuttles, or public transportation options like buses to reach the airport. The airport's strategic location ensures that travelers can easily commute from different areas of the city.


The airport boasts a range of facilities to cater to the needs of travelers. From a variety of dining options, cafes, and shops offering local and international products, to lounges where you can relax before your flight, Sabiha Gokcen Airport ensures a comfortable and enjoyable experience for all passengers.
When planning your journey, keep in mind that the distance between Istanbul Airport and Sabiha Gokcen Airport can affect your travel time. Utilizing the available transportation options will help ensure a smooth transition between the two airports.
Ataturk International Airport (ISL),
Ataturk International Airport (ISL), Istanbul's oldest airport, stands as a testament to the city's aviation history. Once a bustling hub that served over 60 million passengers at its peak, ISL's role shifted when all commercial passenger flights were redirected to the new Istanbul International Airport (IST) in April 2019. More recently, in February 2022, cargo flights and operations also transitioned to IST, closing another chapter in ISL's story.
The airport's origins date back to 1933 when Turkish Airlines commenced operations with two Curtiss Kingbird aircraft, connecting Athens and Ankara. Its active service spanned an impressive 86 years before its operational phase came to an end in 2019. With the beginning of demolition in May 2022, the area is poised for transformation into a park, adding a new dimension to its historical significance.
Presently, Atatürk Airport operates on the European side of Istanbul, albeit on a smaller scale. Since discontinuing commercial flights in 2019, 40% of the airport's premises have been allocated to general aviation, military flights, and VIP private jet services. The remaining 5.2 million square meters are earmarked for the creation of Ataturk Airport National Park, an ambitious endeavor to preserve the airport's legacy while embracing nature and recreation.
When it comes to flying to and from the vibrant country of Turkey, a number of reputable airlines offer comprehensive services, connecting travelers to various destinations worldwide. These airlines play a crucial role in the accessibility and connectivity of Turkey's major airports, including those in Istanbul.
Among the prominent carriers, two stand out as key players in enhancing the air travel experience to and from airports in Istanbul: Turkish Airlines and Pegasus Airlines.
Turkish Airlines, often referred to as the flagship carrier of Turkey, has earned global recognition for its extensive network, top-notch service, and modern fleet. With operations spanning across a wide range of destinations, Turkish Airlines is a favored choice for both domestic and international travel. Its hub at Istanbul Airport further solidifies its role in connecting passengers from around the world.
On the other hand, Pegasus Airlines specializes in providing affordable and efficient travel options. As a prominent low-cost carrier, it caters to budget-conscious travelers who seek to experience the convenience of air travel without breaking the bank. Pegasus Airlines connects a variety of domestic and international routes, contributing significantly to Turkey's accessibility.
Whether you're in search of a full-service journey or a budget-friendly option, Turkish Airlines and Pegasus Airlines offer diverse choices to ensure a seamless and enjoyable travel experience to and from the bustling airports in Istanbul.
Airport Transfers in Istanbul
When journeying to the captivating city of Istanbul, Turkey, a spectrum of convenient options awaits for seamless airport transfers in Istanbul. The city boasts a well-connected transport system, catering to the diverse preferences of travelers arriving at its bustling airports. Depending on your specific destination within Istanbul, you have the choice of taxis, private transfers, or public transportation to seamlessly reach your intended location.
Taxi Services: Opting for a taxi offers a quick and direct route from the airport to your accommodation. Although not the preferred mode for everyone, it remains a straightforward choice for those seeking efficient travel. It's advisable to ensure that the taxi's meter is active from the start of your journey.
Private Transfers: For travelers accompanied by family or a small group, private transfers present an excellent solution. These transfers offer the convenience of dedicated vehicles to accommodate your entire party and their luggage. With your transportation needs in capable hands, you can relish a hassle-free journey to your desired destination.
Public Transportation: Istanbul's integrated public transportation system extends to its airports, providing an economical alternative for travelers. While the bus and metro lines offer direct routes into the city, it's worth noting that this option may require a bit more time. If you're transitioning between airports, the HavaIST offers an affordable and efficient way to move between terminals, streamlining your travel experience.
Considering the vibrant energy of Istanbul's streets, we recommend avoiding car rentals due to traffic congestion and parking challenges within the city. Instead, explore the array of transfer choices that cater to your preferences and budget. Whether you value speed, privacy, or cost-effectiveness, Istanbul ensures that your journey from its airports in Istanbul is as smooth as the city's iconic Bosphorus waters.
Conclusion and future developments
In a city where tradition meets modernity, exploring Istanbul begins right at its welcoming airport terminals. Navigating the various airports in Istanbul provides travelers with a glimpse into the vibrant tapestry of this captivating destination. From the grandeur of Istanbul International Airport to the convenience of Sabiha Gökçen International Airport, each airport has its unique charm and offerings.
As you arrive at these gateways to Turkey, you'll find yourself amidst a seamless fusion of cultural richness and modern amenities. The array of shopping, dining, and leisure options ensures that your time spent within these airport premises is a delightful prelude to the broader Istanbul experience.
The journey doesn't end here. As Istanbul continues to evolve, so do its airports. The city's ambitious plans to expand and enhance its airport infrastructure point towards a future where seamless travel is a given. New terminals, advanced technology, and enhanced facilities are set to elevate the travel experience for all visitors to this enchanting metropolis.
With the question "What are the airports in Istanbul?" answered, you are poised to embark on an adventure that encompasses not only the city's historical wonders and vibrant culture but also its modern and efficient transport hubs. As you navigate through the terminals, consider the myriad of experiences that await beyond the airport walls. Istanbul beckons, and its airports stand ready to welcome you to an unforgettable journey.