From Istanbul to Cappadocia: 5 Best Ways to Get There
Cappadocia is a fascinating destination in Turkey that offers unique landscapes, historical sites, and exciting outdoor activities. It's no wonder that it's become a popular destination for tourists from all over the world. If you're planning a trip to Cappadocia from Istanbul, there are several ways to get there. In this article, we'll explore the best ways to travel from Istanbul to Cappadocia.
As you explore this article, make sure to also check out our related piece on the Best Time to Visit Cappadocia for further insights into planning your unforgettable journey.
From Istanbul to Cappadocia by Plane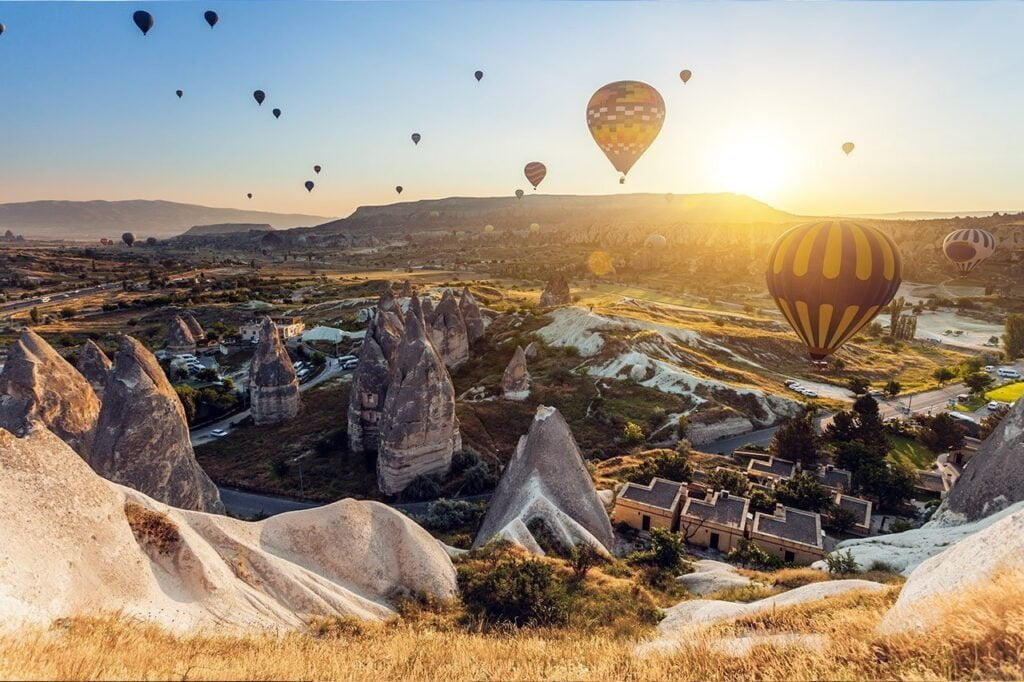 A common choice among travelers with limited time is to take a direct flight from Istanbul to Cappadocia.
Both Turkish Airlines and Pegasus Airlines offer regular flights to Cappadocia's two airports throughout the day and night, with a flight time of 80 minutes.
For those looking for more flight options, Turkish Airlines provides six services daily to Kayseri Airport from either Istanbul International Airport or Sabiha Gökçen Airport, and at least one service departs daily from Istanbul International Airport for Nevşehir Kapadokya Airport. On the other hand, Pegasus Airlines flights to Cappadocia depart exclusively from Sabiha Gökçen and arrive at Kayseri Airport.
While your choice of airline and airport may depend on the most suitable departure time for you, it's important to know the differences between Cappadocia's two airports. Kayseri Erkilet Airport is located in the city of Kayseri, around 80 kilometers east from the villages at the center of Cappadocia's tourism industry. On the other hand, the much smaller Nevşehir Kapadokya Airport is situated just north of the town of Gülşehir, around 40 kilometers northwest of the villages.
To get from either airport to your hotel in the Cappadocia villages, pre-booked airport shuttle services are available. Journey time from Kayseri Airport can take up to two hours, depending on waiting time for all passengers booked on the shuttle to exit the airport and which village you're staying in. From Nevşehir Airport, the shuttle bus services rarely take longer than 30 minutes door to door. It's important to note that seats on these privately run airport shuttles must be booked in advance, which are usually organized by your hotel.
From Istanbul to Cappadocia by Bus
Traveling from Istanbul to Cappadocia by bus is a comfortable and affordable option for those who want to explore this beautiful region of Turkey. There are several bus companies that offer direct transportation from Istanbul's main Esenler Otogar to Nevşehir Otogar, which is approximately 18 kilometers west of the Cappadocia villages.
Nevşehir Seyahat, Kamil Koç, and Metro are the main bus companies that operate on this route, and the journey time takes between 11 and 12 hours. Most departure options leave during the evening, arriving at Nevşehir bus station the following morning, but there are also a few day-bus services for those who enjoy taking in the scenery.
There is minimal price difference between the bus companies, so your decision will likely be based on departure time. All of the buses are equipped with comfortable, airline-style seating, individual entertainment systems, charging points for your phone, and an on-board conductor service that offers complimentary hot and cold drinks and snacks.
From Nevşehir Otogar, there are direct minibus services to the popular tourism centers of Göreme, Ürgüp, and Avanos, making it easy to reach your destination within Cappadocia. Overall, traveling from Istanbul to Cappadocia by bus is a convenient and comfortable way to experience the beauty of this region in Turkey.
From Istanbul to Cappadocia by Train
Currently, there is no direct train service from Istanbul to Cappadocia. However, you can take a train from Istanbul to Kayseri, which is the nearest city to Cappadocia. The journey takes around 13-14 hours, so it's not the most convenient option, but it's a great way to experience the Turkish countryside and meet some locals along the way.
From Istanbul to Cappadocia by Private Tour
If you're looking for a more personalized and hassle-free way to travel from Istanbul to Cappadocia, you might want to consider a private tour.
A private tour to Cappadocia will provide you with a comfortable vehicle, a knowledgeable guide, and a flexible itinerary that can be tailored to your interests and preferences. You won't have to worry about navigating unfamiliar roads or figuring out public transportation schedules.
There are several companies that offer private tours from Istanbul to Cappadocia. Some of these tours include overnight stays in boutique hotels, hot air balloon rides over the unique landscape of Cappadocia, and visits to some of the region's most famous sites and attractions.
Prices for private tours can vary depending on the length of the tour, the number of people in your group, and the level of luxury you're looking for. However, it's worth noting that private tours tend to be more expensive than other modes of transportation.
If you're interested in booking a private tour to Cappadocia, it's a good idea to do some research and compare prices and itineraries from different tour operators. Make sure to read reviews from previous customers to ensure that you're booking a reputable and reliable tour.
From Istanbul to Cappadocia by Car
If you rent a car to explore the Anatolian countryside from Istanbul to Cappadocia, you can stop at some of the region's most important historical sites along the way.
While public transportation is an option, it's much more difficult and time-consuming to travel to most of these places this way.
When traveling from to Cappadocia from Istanbul by car on this route, some of the best stops include the preserved Ottoman village of Safranbolu (410 kilometers east of Istanbul), the Phrygian ruins of Gordion (468 kilometers southeast of Istanbul or 272 kilometers south of Safranbolu), and the Hittite ruins of Hattuşa in the village of Boğazkale (307 kilometers southeast of Safranbolu or 305 kilometers east of Gordion).
After visiting Hattuşa, it's a further 196-kilometer drive south to the village of Göreme, which is the heart of Cappadocia's tourism industry.
Both Safranbolu and Boğazkale have accommodations for overnight stays, and there are plenty of other tourist attractions and historic sites in the surrounding areas of these cities, so plan on taking a few days to complete your journey.
Driving in Turkey is relatively easy, with well-maintained highways and clear signs for towns, tourist attractions, and historic sites. However, gas is expensive in Turkey, so self-driving trips will be more expensive than other transportation options.
Here are some tips and advice to help you plan your trip from Istanbul to Cappadocia:
Plan ahead: It's always best to plan your trip in advance, especially if you're traveling during peak season. This will ensure that you can secure the best deals on flights, accommodations, and tours.

Choose your mode of transportation: There are several ways to travel from Istanbul to Cappadocia, including by plane, bus, and car. The fastest and most convenient option is to take a domestic flight from Istanbul to Kayseri, which is the closest airport to Cappadocia. You can also take a direct bus from Istanbul to Goreme, the main town in Cappadocia. If you prefer to drive, you can rent a car in Istanbul and take the scenic route through Ankara.

Book your accommodation in advance: Cappadocia is a popular tourist destination, so it's important to book your accommodation in advance. There are plenty of options to choose from, including hotels, guesthouses, and cave hotels. If you're looking for a unique experience, consider staying in a cave hotel, which is built into the rock formations that Cappadocia is famous for.

Take a hot air balloon ride: One of the highlights of any trip to Cappadocia is a hot air balloon ride over the fairy chimneys and rock formations. Be sure to book your hot air balloon ride in advance, as this is a popular activity and tends to sell out quickly.

Join a guided tour: There are many guided tours available in Cappadocia, which can help you get the most out of your visit. A guide can provide insight into the history and culture of the region, and can take you to hidden gems that you might not discover on your own.

Dress appropriately: Cappadocia is a conservative region, so it's important to dress appropriately, especially if you're visiting a mosque or other religious site. Women should cover their heads and wear long skirts or pants, while men should avoid shorts.

Pack for the weather: Cappadocia can be quite hot in the summer and cold in the winter, so be sure to pack accordingly. In the summer, bring light, breathable clothing and plenty of sunscreen, while in the winter, bring warm clothing and a good pair of boots.
By following these tips and advice, you can ensure that your trip from Istanbul to Cappadocia is a memorable and enjoyable experience.
In conclusion, there are several ways to travel from Istanbul to Cappadocia, and each option has its advantages and disadvantages. Whether you choose to fly, take a bus, rent a car, take a train, or book a private tour, you're sure to have an unforgettable experience in one of Turkey's most beautiful destinations.