About Istiklal street in Istanbul
When you visit Istanbul, one of the first things that come to mind is Istiklal Street (Turkish: İstiklal Caddesi; English: "Independence Avenue"). Located in the Beyoğlu district on the European side of Istanbul, Istiklal Street is the city's most famous and popular street. Its nostalgic old tram runs from one end to the other, adding to the charm of the street.
The street runs from Taksim Square to Tünel and is open only to pedestrians. Surrounding the street are old embassy buildings that were allocated to consulates in the Republican period.
Istiklal Street is a must-visit destination for both locals and tourists, particularly young people. It offers 24-hour entertainment and life with its many restaurants, cafes, bars, art centers, shopping centers, cinemas, and historical sites.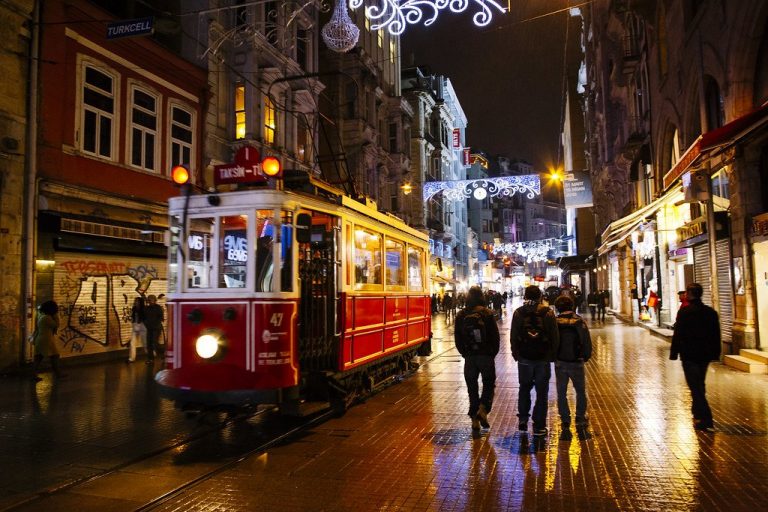 The history of Istiklal street
Istiklal Street, formerly known as Cadde-i Kebir, Büyük Street, and Grande Rue de Péra in French, is located in the Beyoğlu district of Istanbul. Since the end of the 19th century, this street stretching between Tünel and Taksim Square has preserved its character as one of the most famous streets in Turkey.
The first phase of shaping the street began after the Byzantine period. Galata, which existed as a Genoa colony surrounded by walls during the Byzantine rule, included various Latin communities, Catholic churches, and monasteries.
The middle point of the 1,400-meter-long street is considered to be the place where Yeniçarşı Street crosses the street, passing by Galatasaray High School, and where the 50th Anniversary Monument is located. It forms the main axis of the Beyoğlu district together with Tarlabaşı Boulevard lying in parallel. Istiklal Street, which is located at an average altitude of 74 meters, covers nine different neighborhoods administratively.
Istiklal Street was the route from Galata Tower to Galata Palace Barracks School in the 17th century. In this period, structures such as the Terra Sainte Church and the Franciscan Church were located on the street. In the 18th century, the street continued to develop and became one of the most famous streets in Turkey.
Where is Istiklal street located in Istanbul?
Located in the Beyoglu district on the European side of Istanbul, Taksim Square and Tunel Square, at either end of Istiklal Street, are both major transportation hubs that make it easy to reach the avenue from many districts in Istanbul. Both squares are connected to the main tram line by funicular railway and to the metro. Buses and Dolmuş (shared taxi or minibus) stop at Taksim Square, where taxis are also abundant.
This pedestrianized street is a paradise for shopping lovers, boasting a large number of luxurious and valuable stores, including some of the most prestigious international brands, as well as smaller shops selling various goods that line both sides of Istiklal Street. From musical instruments and ready-made clothing to simple jewelry, books, sweets, and unique individual shops, there is something for everyone on this historic cobblestone street. It's not just a shopping destination, though; it's also a place to experience history, culture, and entertainment.
The shops on Istiklal Street in Istanbul are renowned as one of the city's most famous clothing markets. Turkey is well-known for its luxurious and valuable stores, including some of the most prestigious international brands, and thousands of visitors flock to Istiklal Street daily for the great features and value they offer.
As you walk down Istiklal Street, you'll find a plethora of shops on your right, ranging from food stores and clothing shops to shoe stores, antique shops, sweet shops, palmistry, and cafes. It's no wonder that Istiklal Street is considered the heart of Istanbul, as it's one of the most important factors in stimulating tourism in the city.

You can visit our guide for shopping and shops in Istiklal street
Istiklal Street foods and restaurants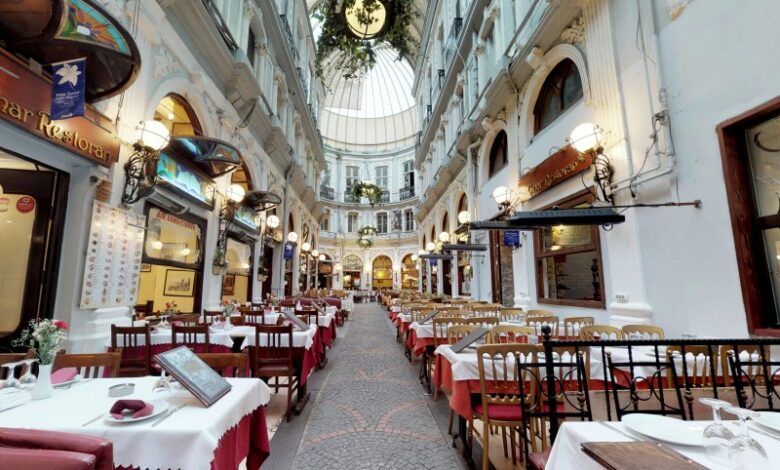 After touring Taksim Square and Istiklal Street in Istanbul, you can enjoy a meal at one of the many restaurants that are scattered around the area. There is a wide variety of restaurants available, ranging from international fast-food chains to local eateries.
One of the most popular restaurants in Taksim, and indeed in all of Istanbul, is the Almadina restaurant. This restaurant is especially popular with Arabic tourists, as it features some of the best chefs in the city, led by Chef Burak. The restaurant is known for its diverse selection of Turkish dishes, which are prepared with exceptional quality and taste, and presented in an attractive manner with amazing offers.
Another popular option is the Sultanahmet Kftisi Selim Usta Restaurant, which has been serving delicious Turkish food since 1929. Some of the most popular dishes include grilled meatballs, special soup, and bean salad.
If you're looking for an international dining experience, you can visit the 360 Istanbul restaurant, which serves European and international cuisine along with local Turkish dishes. The restaurant is located on the top floor of a building and offers a stunning view of the city.
In summary, whether you're in the mood for local Turkish cuisine or international flavors, Taksim Square and Istiklal Street have a wide variety of restaurants to choose from.
Opening Hours & Notes about Taksim Istiklal Street:
Open daily between 10:00 and 21:00, including Sundays and public holidays.
Unlike the Grand Bazaar, most stores ın Istiklal Street only accept Turkish Lira, and you can pay with all major credit cards.
Notes: Make sure to keep your important personal belongings such as your passport and money in a safe place inside your bag and it is recommended to put them in the inner pocket of your jacket. The area is usually very crowded by attracting thousands of people all over the world, so it is advised to be careful of the presence of bad people.