Located in the central Anatolian region of Turkey, Cappadocia means "The Land of beautiful horses" in old Persian.
It is a world-renowned touristic region and one of the most visually striking districts. with its volcanic landscape, fairy chimneys, and hot air balloons. appearing as an open-air museum combines exotic nature and ancient culture.
As you explore this article, make sure to also check out our related piece on the Best Time to Visit Cappadocia for further insights into planning your unforgettable journey.
Where is Cappadocia located?
Cappadocia is located in the center of Turkey on the Anatolian side. bounded by five provinces (Nevşehir, Hacıbektaş, Aksaray, Niğde and Kayseri), about 20 Km from the main tourist area Nevşehir.
The airway is the fastest and most comfortable way to reach Cappadocia. There are two main airports that you can use for reaching Cappadocia
The first one is Kayseri Erkilet Airport (ASR) in Kaysere, located 5 km north of Kayseri in the Kayseri Province, about one-hour driving.
Turkish Airlines operates direct (nonstop) flights from the new Istanbul Airport to Kayseri Erkilet Airport.
It's easy to arrange a transfer or a bus from Kayseri Airport directly to Cappadocia.
The second airport is Nevşehir Kapadokya Airport (NAV), located in Gülşehir town of Nevşehir Province. Turkish Airlines operates direct (nonstop) flights from the new Istanbul Airport to Kayseri Erkilet Airport twice a day.
From Istanbul to Cappadocia
You have several options to go from Istanbul to Cappadocia, you can use airlines as we mentioned above, its fastest and not expensive if you got your ticket early, or a high-speed train that is connecting Istanbul with Konya and Ankara via Eskişehir. after you reach Konya you can continue to Cappadocia by bus or rental car. (232 km/144 miles).
Or you can go by car but It's a long drive (800 km/500 miles), 7 hours without stops Check out the map
From Ankara to Cappadocia
The best and easiest way to go from Ankara to Cappadocia is by bus and car, the train is less convenient and slow, there are no nonstop flights.
Metro Turizm, at Nos. 16, 30, 41, 50 & 78, also has several buses to Nevşehir.
By car (219 km/136 miles, 3 hours).
From Antalya to Cappadocia
The best and easiest way to go from Antalya to Cappadocia is by bus and car, the train is less convenient and slow, and there are no nonstop flights.
Two airlines offer nonstop flights from Antalya to Cappadocia (Pegasus Air and Sun Express), in the summer months. the other option is going by bus or car
Bus: You can take overnight buses running between Antalya and Nevşehir, it's about a 9-10 hours journey.
You can also go there by car (586 km / 364-mile), which takes 8-9 hours.
Cappadocia is 1000 meters above sea level. it has a continental climate, with hot and dry summers above 30°C and quite cold winters with minus degrees and a bit of snow.
The region is generally dry with no much rain. The best time to go to Cappadocia is either May or June When the land is still a bit green.
Cappadocia in winter also has a special glamor. There are not many tourists and snow-covered fairy chimneys look even more surreal.
Cappadocia is a very safe tourist area, and walking through the valleys such as Love valley is a wonderful experience you don't want to miss.
However, a traveler who does not want to hire a tour guide should be careful before venturing into the isolated areas, narrow, non-illuminated roads between villages, especially in the evening.
Top Places to visit in Cappadocia
There are so many fascinating things to see and attractive places to visit in Cappadocia. The main 'must-see' attractions are Zelve Open Air Museum, Goreme open-air museum, and the underground cities.
However, there are also many rock-cut small churches and monasteries, wonderful hiking trails, several spectacular caravanserais where travelers could rest and recover from the day's journey. besides, many spectacular rock formations well worth going out of your way to visit and enjoy.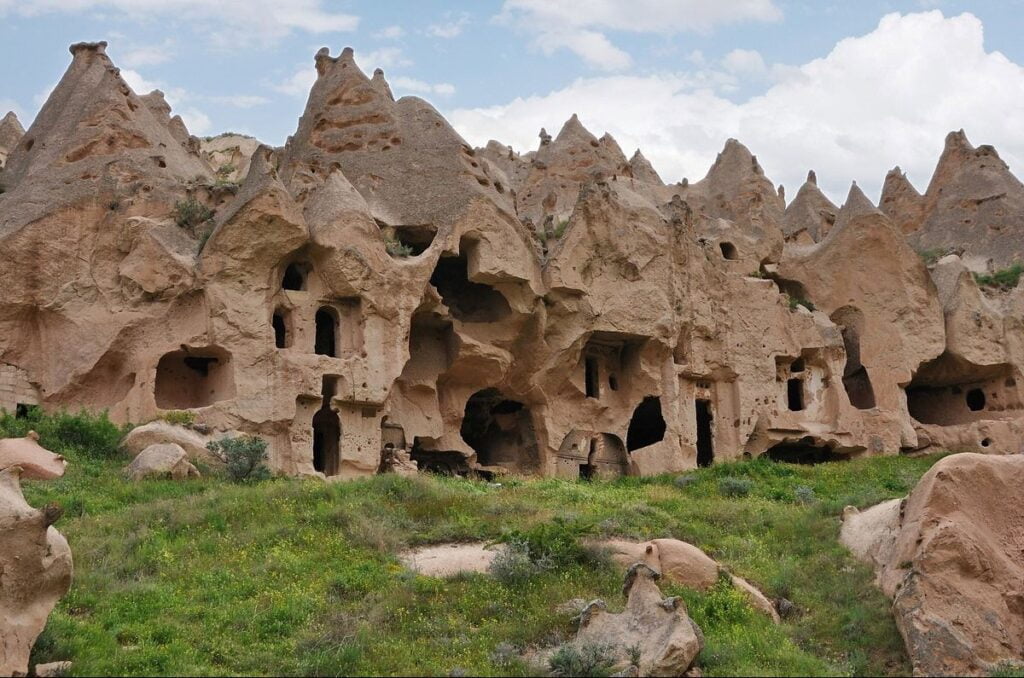 Zelve Open-Air Museum has located about 10 Km out of Goreme, Until 1024, Muslims and Christians lived in harmony in this amazing cave village featuring dwellings, secular chambers, and religious painting.
We suggest you walk around the Zelve Open-Air Museum; the area is about 1.5Km.
You will see some of the paintings on the surface of the rocks that remain from the collapsed Geyikli Kilise (the Church with the Deer) giving examples of the oldest paintings displaying the principal religious symbols of Christianity, such as Cross, deer, and fish.
besides, you will see a rock-cut mosque in the first valley stand with a gorgeous minaret.
2. Göreme Open Air Museum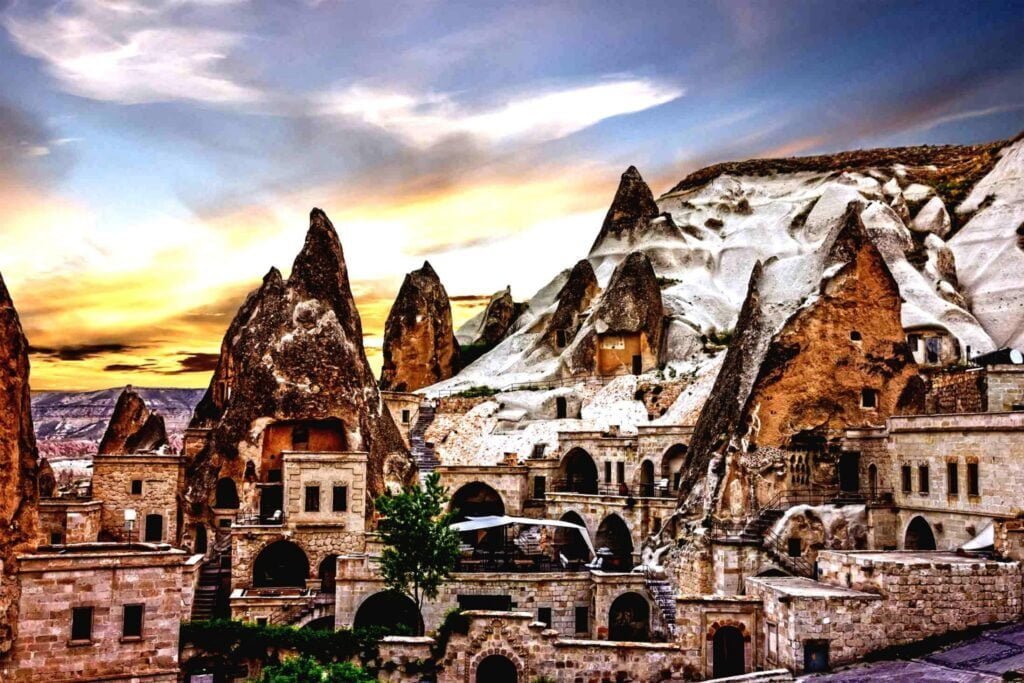 Göreme Open Air-Museum has a collection of caves and fairy chimneys. It is one of the main places to visit in Cappadocia. Be sure to visit the cave-churches across the highway outside the museum entrance, whıch is included in museum admission (keep your ticket).
Back to the middle ages, Christian monks built these churches by carving the soft Volcanic rocks. Their main purpose was to live in seclusion. The monks had the Byzantine cultural influence, therefore they ornamented the walls of their churches with religious art from the Byzantine style.
3. Underground Cities To Visit in Cappadocia
There are a lot of Underground Cities To Visit in Cappadocia(36 underground cities in Cappadocia). Among them, Kaymakli and Derinkuyu are the most visited underground cities. the widest one is Kaymakli, while the deepest is the Derinkuyu. The interior temperature is fixed to 13-celsius degrees(86°F). If you visit these places in summer, a Lightweight jacket might be useful.
4. Kaymakli underground city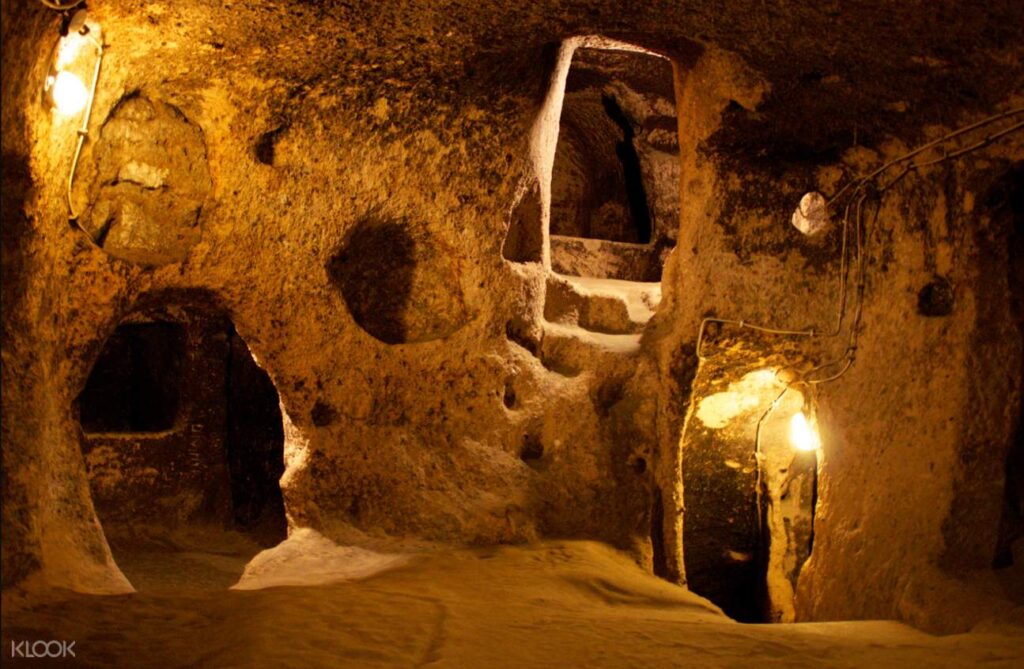 The most popular one is Kaymakli underground city. this city was founded in 3000B.C by the Hittites. and it has the capacity to housing 5,000 people.
kaymalki Underground City is organized very well, It meets all the needs of its inhabitants, it even has wineries and meeting rooms.
5. Derinkuyu underground city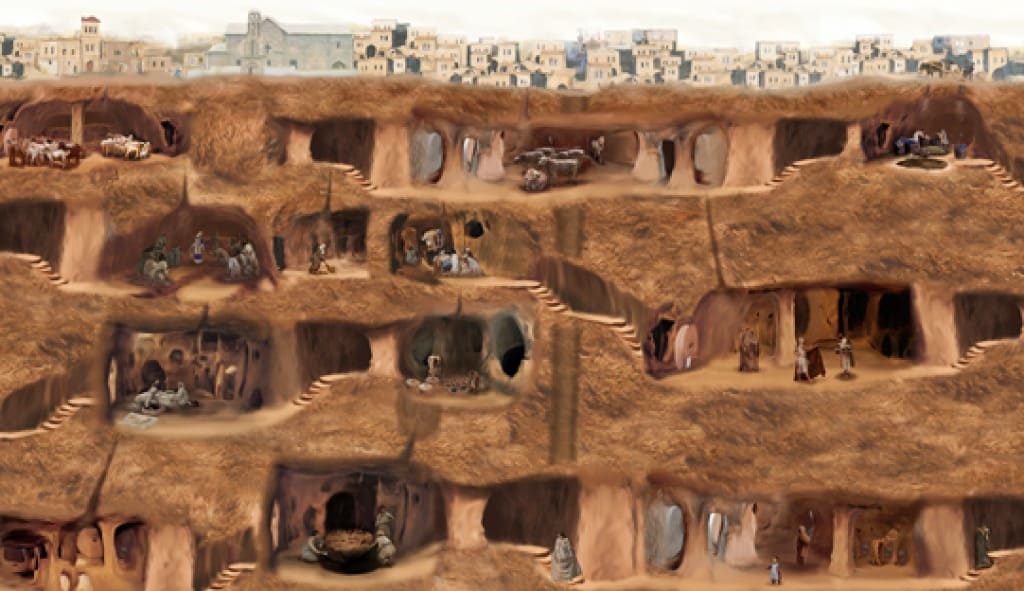 Located in the same-named town Derinkuyu, The Derinkuyu underground city has about 600 outside doors, hidden in the courtyards of surface dwellings. it is approximately 85m deep, It has fully met the needs of its residents in the past (school, stables, cellars, storage rooms, churches, refectories, wine cellar, etc.)
Unmissable Things to do in Cappadocia
1. Hot Air Balloon Cappadocia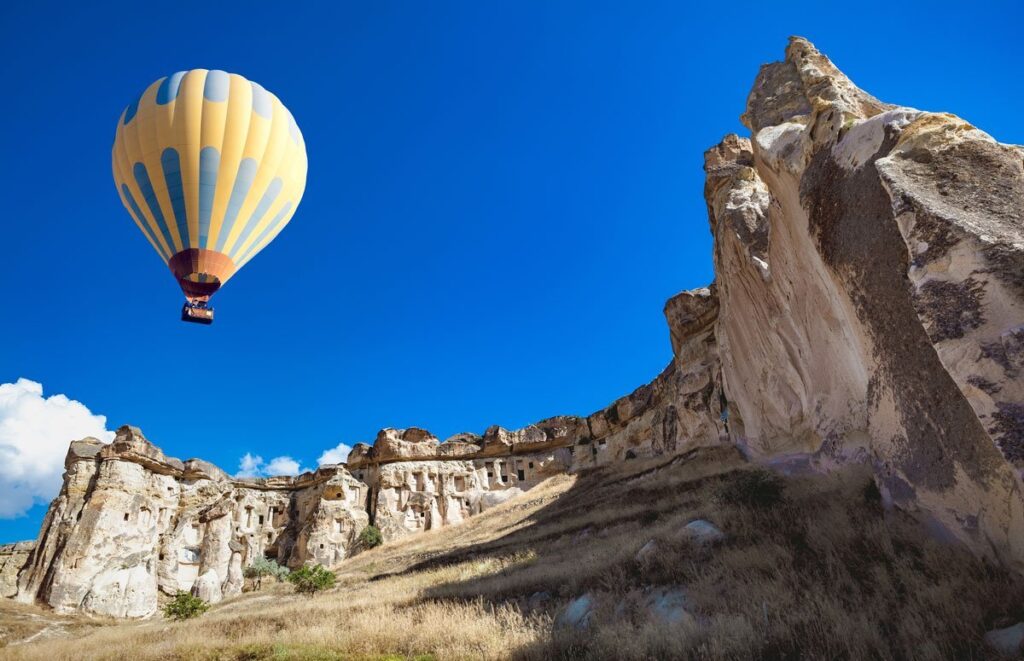 Cappadocia is well known as one of the best places for flying with a hot air balloon in the world. Flying in a hot air balloon over Cappadocia is an unforgettable experience. The balloon will take you on overhead stunning surrealistic landscapes, unique rock formations, pigeon houses hewn, between fairy chimneys and orchards and vineyards- through impressive valleys, don't miss the breathtaking views of the region.
Cappadocia, with its unreal rock formations and stunning landscape, is a perfect destination for a road cycling tour. It worth having a bike to tour the valleys.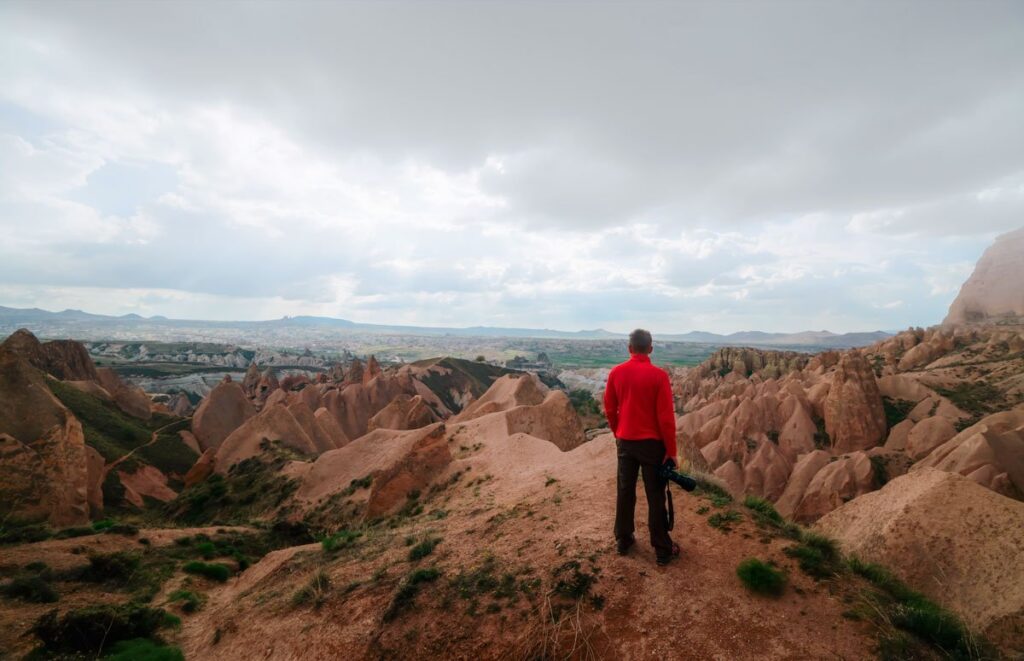 Following the trails along the valleys is a good (and free) option.
Check with your hotel or the tourist office for a map of the area with suggested walks and trails.
There are several nice loops on packed dirt, sand, and rock, that maintain a constant elevation and pass through the scenic valleys. However, the best views require some strenuous climbs.
Hiking can be extremely unpleasant in the hot summers; don't forget to take lots of water, and prepare to return drenched in sweat.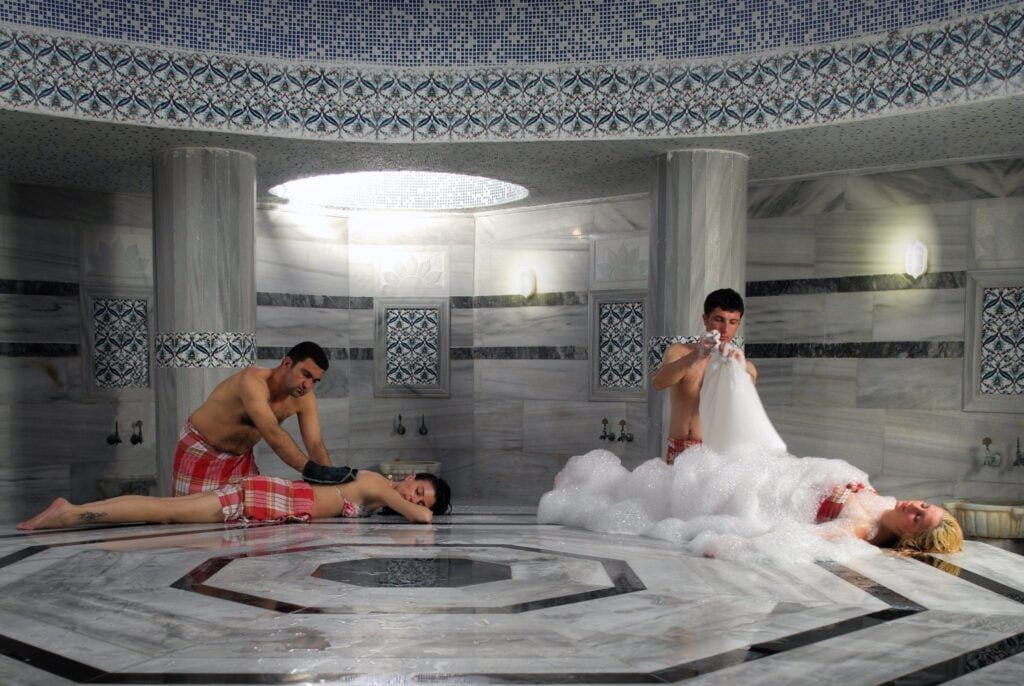 What a wonderful feeling of relaxation in a hot Turkish bath after a long day of hiking
There are many Turkish baths near the city center, they provide steam rooms, mud mask, massage, and scrubbing with about 70 Tl.
You can also take a 15 min minibus ride to Nevsehir where you can get the same service at a cheaper price (30 Tl ). Just get off at the main crossroads in Nevsehir and ask around for "Hammam".
Conclusion
Cappadocia is one of the most beautiful places in Turkey that will make your trip memorable. If you want more information or have an inquiry for your next trip you can contact us