The easiest ways to get around in Turkey
Turkey is a beautiful country that offers a rich cultural experience for travelers. As a popular tourist destination, Turkey is equipped with a range of transportation options that allow visitors to easily move around the country. These options include air travel, buses, trains, ferries, and even cycling.
Understanding the different modes of transportation in Turkey is essential for travelers as it allows them to plan their trips and explore the country with ease. In this article, we will provide a comprehensive guide to transportation in Turkey, including information on airports, airlines, and different modes of transportation within the country. Whether you're a first-time visitor or a seasoned traveler to Turkey, this guide will help you navigate the transportation options available to you.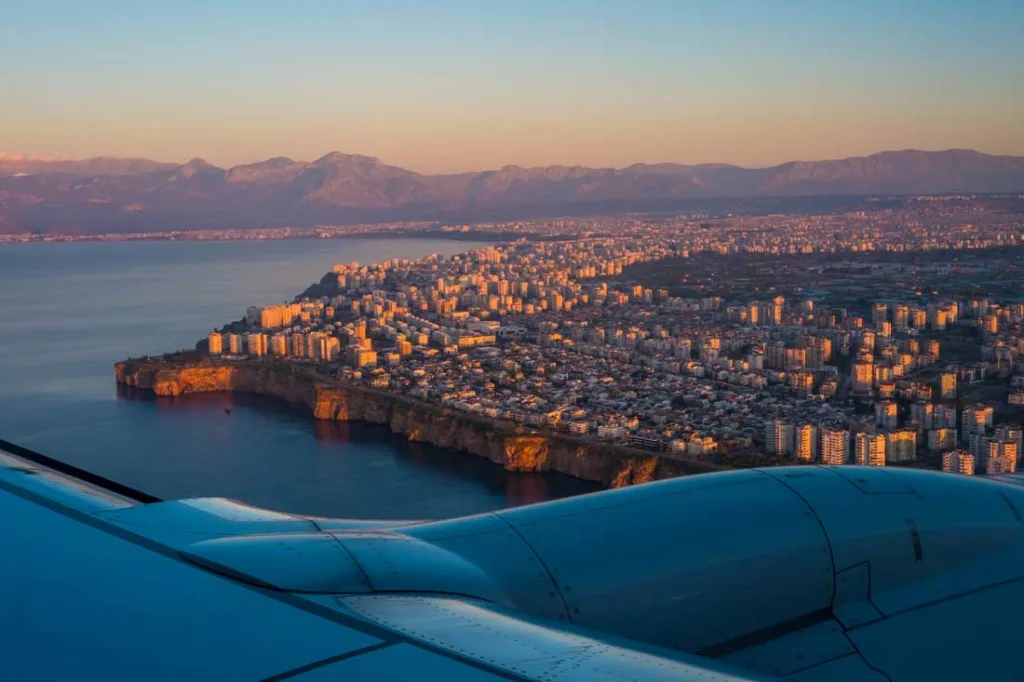 Traveling by bus is another popular option in Turkey, especially for short to medium distances. The country has a well-developed bus network with various private and public bus companies operating throughout the country. Bus travel is also relatively cheap and comfortable, with air-conditioned buses and reclining seats.
Some of the popular bus companies in Turkey include Metro, Varan, and Ulusoy. However, it's important to note that long-distance bus travel can be time-consuming and may not be the most convenient option for some travelers.
Traveling by train is another option in Turkey, but it's not as popular as air or bus travel. The country has a limited network of train routes, with most routes centered around Istanbul. However, train travel is a great option for travelers who want to see the countryside and experience the local culture.
The national train company in Turkey is Turkish State Railways (TCDD), which operates both regional and long-distance trains. The high-speed train network in Turkey is also expanding, with routes connecting Istanbul, Ankara, and other major cities.
Once you've arrived in Turkey, there are several ways to get around the country, including:
Traveling within Turkey offers a variety of transportation options. You can choose from airplanes, trains, buses, ferries, or even rent a car. Each mode of transportation has its own advantages and disadvantages, so it's important to choose the one that suits your needs and budget.
Getting around by Air in Turkey
Air travel is the fastest and most efficient way to travel within Turkey.
Domestic airlines in Turkey include Turkish Airlines, Pegasus Airlines, and AnadoluJet. These airlines operate flights to major cities and towns across the country, and offer frequent and affordable flights.
When booking domestic flights in Turkey, it's important to compare prices between airlines and book tickets in advance for the best deals. It's also recommended to check luggage allowances and any additional fees before booking your flight.
Major airports in Turkey include Istanbul Airport, Sabiha Gökçen Airport, and Ankara Esenboğa Airport. Istanbul Airport is the largest airport in Turkey and serves as a major hub for international and domestic flights. Sabiha Gökçen International Airport is located on the Asian side of Istanbul and is a popular airport for budget airlines. Ankara Esenboğa Airport serves the capital city of Ankara and operates flights to major cities in Turkey.
Popular destinations for domestic flights in Turkey include Istanbul, Antalya, Izmir, Bodrum, and Ankara. These cities offer a mix of cultural, historical, and natural attractions, making them popular destinations for both domestic and international travelers.
Travel by trains in Turkey
Train travel is a popular option for getting around Turkey, especially for longer distances. Here is an overview of train travel in Turkey:
Overview of train travel in Turkey:
The Turkish State Railways (TCDD) operates the train network in Turkey, which covers many popular tourist destinations.
The YHT network connects Istanbul to Ankara, Konya, and Eskişehir, with more routes planned for the future.
Conventional trains have several classes of service, including sleeper cars and couchette cars.
Train travel is generally comfortable and affordable, and provides a scenic way to see the Turkish countryside.
Types of trains and classes available:
High-speed trains (YHT) are the fastest and most modern trains in Turkey, with reclining seats and on-board catering.
Conventional trains have several classes of service, including sleeper cars (yataklı vagon) with private cabins and couchette cars (kuşetli vagon) with shared cabins.
The economy class (ekonomi) is the most affordable option, with regular seating.
Popular train routes in Turkey:
Istanbul to Ankara:

This is the most popular train route in Turkey, and is served by both YHT and conventional trains.

Istanbul to Konya:

This YHT route provides access to the historic city of Konya, which is known for its Seljuk architecture and the Mevlana Museum.
Istanbul to Sivas: This route is currently being renovated and is expected to reopen soon, providing access to the historic city of Sivas and the nearby UNESCO-listed archaeological site of Çatalhöyük.

Istanbul to İzmir:

This route is served by conventional trains and provides access to the Aegean coast.


When booking train travel in Turkey, it's important to book tickets in advance, especially for YHT routes. Tickets can be purchased online or at train stations, and it's recommended to book as early as possible to secure the best fares and seating options. Overall, train travel is a comfortable and scenic way to see the sights of Turkey, especially for those traveling longer distances.
Getting around by By long-distance bus in Turkey
Long-distance bus travel is a popular and affordable mode of transportation in Turkey, especially for budget-conscious travelers. Major bus companies such as Kamil Koç, Pamukkale, and Varan operate coaches between major cities, providing comfortable and convenient travel options. These coaches often come equipped with amenities such as reclining seats, snack services, seat-back entertainment systems, and even Wi-Fi, making for a more enjoyable journey. However, it is worth noting that journey times can be long, and ticket prices may not always be competitive with flight fares. Nonetheless, traveling by long-distance bus offers a unique and local way to explore Turkey.
Long-distance buses, also known as "otobüs" in Turkish, operate on a variety of routes across Turkey, connecting major cities and tourist destinations. Some of the most popular routes include Istanbul to Cappadocia, Istanbul to Antalya, and Istanbul to Izmir, among others. Other popular routes include Ankara to Istanbul, Bursa to Istanbul, and Trabzon to Istanbul.
When traveling by long-distance bus in Turkey, it's important to note that the bus stations, or "otogars," can be quite large and crowded. It's a good idea to arrive at the otogar early to allow enough time to find your bus and board before departure time. Most otogars have a central ticket office where you can purchase tickets, but it's also possible to buy them online or from travel agencies in advance. When purchasing tickets, make sure to confirm the departure time, bus number, and platform number.
Inside the otogar, you'll find a variety of amenities such as cafes, restaurants, and shops. It's also worth noting that the larger otogars have baggage storage facilities, restrooms, and prayer rooms.
Booking long-distance bus tickets in Turkey is relatively easy. Tickets can be purchased online in advance, through travel agencies, or directly from the bus stations. It's recommended to book tickets in advance, especially during peak travel seasons, to secure your seat and avoid last-minute price hikes.
Overall, traveling by long-distance bus in Turkey is a convenient and affordable option for exploring the country. With a bit of planning and patience navigating the otogars, it's easy to travel between major cities and popular destinations.
Getting around by Ferry in Turkey
Ferry travel is a popular way to get around in Turkey, especially in coastal regions and across the Aegean and Mediterranean Seas. Ferries are operated by several companies, including IDO, Turyol, and Bodrum Express, among others.
Types of Ferries and Classes Available:
There are various types of ferries available, including fast ferries, car ferries, and passenger ferries. The classes available may differ depending on the ferry company, but generally, there are economy and business classes.
Economy class is the standard class and is suitable for budget-conscious travelers. Business class offers more comfort and amenities, such as more spacious seating, complimentary snacks and drinks, and Wi-Fi.
Popular Ferry Routes in Turkey:
Ferry services operate between several coastal cities and popular tourist destinations, including Istanbul, Bodrum, Izmir, and Antalya. Some of the most popular ferry routes in Turkey include:
Istanbul to Princes' Islands: A popular day trip from Istanbul, the Princes' Islands are a group of nine small islands located in the Sea of Marmara. Ferries depart from several ports in Istanbul, including Kabatas, Besiktas, and Kadikoy.

Bodrum to Kos: Located just a few kilometers from the Turkish coast, Kos is a Greek island and a popular destination for day trips and short breaks. Ferries depart daily from Bodrum, and the journey takes around 45 minutes.

Izmir to Cesme: Cesme is a popular coastal town located on the Aegean Sea, known for its beaches and thermal baths. Ferries operate daily between Izmir and Cesme, with a journey time of around an hour.

Antalya to Alanya: Alanya is a popular resort town located on the Mediterranean coast, known for its sandy beaches and ancient ruins. Ferries operate several times a week between Antalya and Alanya, and the journey takes around four hours.
Using a Dolmuş (Minibus) in Turkey
Dolmuş, also known as shared taxis or minibusses, are a popular and affordable mode of transportation in Turkey, especially in smaller towns and cities. Here's an overview of using a Dolmuş in Turkey:
Dolmuş run on set routes and can be flagged down from the side of the road or found at designated stops. They usually have a sign on the roof or front indicating their destination.

The fares for Dolmuş are fixed and generally low, making them an affordable option for short journeys. However, be aware that some drivers may try to charge more for tourists, so it's a good idea to know the approximate fare beforehand.

Dolmuş can get crowded, especially during peak travel times, and you may have to share the vehicle with other passengers. In some cases, you may need to stand during the journey.

Dolmuş usually have no fixed timetable, and they operate based on demand. As such, you may need to wait for a few minutes for the Dolmuş to fill up before it departs.

Dolmuş generally don't have air conditioning, but they do have open windows, which can provide some ventilation.

There are usually no designated stops for getting off the Dolmuş. To indicate that you want to get off, simply tell the driver or say "inecek var" (ee-neh-jek var), which means "someone is getting off."

Dolmuş can be a convenient way to get around in smaller towns and cities, and they often go to areas that may not be served by larger buses. However, if you're traveling long distances, it may be more comfortable and convenient to take a larger bus or a private taxi.
Overall, Dolmuş are a popular and affordable option for short journeys in Turkey. They provide a unique and local way to explore the country and interact with locals. Just be prepared for a crowded and potentially bumpy ride!
Bicycle and motorcycle in Turkey
Touring Turkey by bicycle can be a great option for experienced cyclists who are prepared for the conditions. It's important to avoid the hottest months and the busiest roads, and be aware that motorists may not show deference to cyclists. Local mechanics experienced in working on state-of-the-art bikes are also limited, particularly outside of big cities such as Ankara, Antalya, Istanbul, and Izmir. It's recommended to bring your own repair kit and be prepared to do your own repairs.
Turkey has a well-developed home-grown mountain bike industry, and spares from brands like Shimano are readily available in big cities. If you're passing through Turkey or plan to stay for a while, it may be worth considering buying a home-grown model to make spares and repairs less problematic.
Locking your bike is recommended in cities, although theft is not likely to be a problem in rural areas. Bicycle rental facilities are limited in Turkey, but can be found in certain areas such as Cappadocia and Antalya.
For motorcyclists, only confident and experienced drivers should consider driving in Turkey due to the road conditions. In resort areas, visitors may be able to rent scooters, but an appropriate driving license is required and most rental companies insist that it has been held for at least a year. Helmets are mandatory, despite the prevalence of helmet-less riders on the road. Rental agencies can be found in larger resorts and big cities. When renting a motorbike or scooter, it's important to check for any scratches or dents before renting.
Turkey has a wide range of transportation options available for travelers to choose from, including domestic flights, buses, dolmuş, taxis, ferries, and bicycles/motorcycles. Depending on your budget, destination, and comfort level, you can choose the mode of transportation that best suits your needs.
When choosing your mode of transportation, consider factors such as cost, travel time, comfort, safety, and convenience. It's also essential to plan ahead, book tickets in advance, and research the best transportation options for your route.
To use transportation in Turkey safely and efficiently, it's important to follow local rules and regulations, be aware of your surroundings, and keep your belongings secure. You should also be prepared for delays, unexpected changes, and language barriers.
Overall, the best transportation option for travelers in Turkey may vary depending on their preferences and itinerary. For shorter distances and city trips, dolmuş and city buses are affordable and convenient. For longer distances, buses and domestic flights are efficient and cost-effective. If you're an experienced cyclist or motorcyclist, exploring Turkey on two wheels can be a great option.
Exploring Turkey through its transportation options can be an exciting and enriching experience. Whether you're admiring the scenery from a comfortable bus, chatting with locals on a dolmuş, or cruising the coastline on a ferry, Turkey's transportation options offer a unique glimpse into the country's culture and way of life.
Most popular FAQ about transportation in Turkey