Antalya, Turkey is one of the most popular and frequented tourist destinations in the country, known for its natural beauty and historical riches, including blue-flagged beaches with clear waters. It is often considered a piece of paradise and a preferred holiday city. Visitors can enjoy swimming, sailing, sightseeing, mountain climbing, and family fun activities in Antalya.
For those planning a trip to Antalya, there are many resources available such as guides with detailed information about hotels, beaches, shops, archaeological sites, transportation, and more.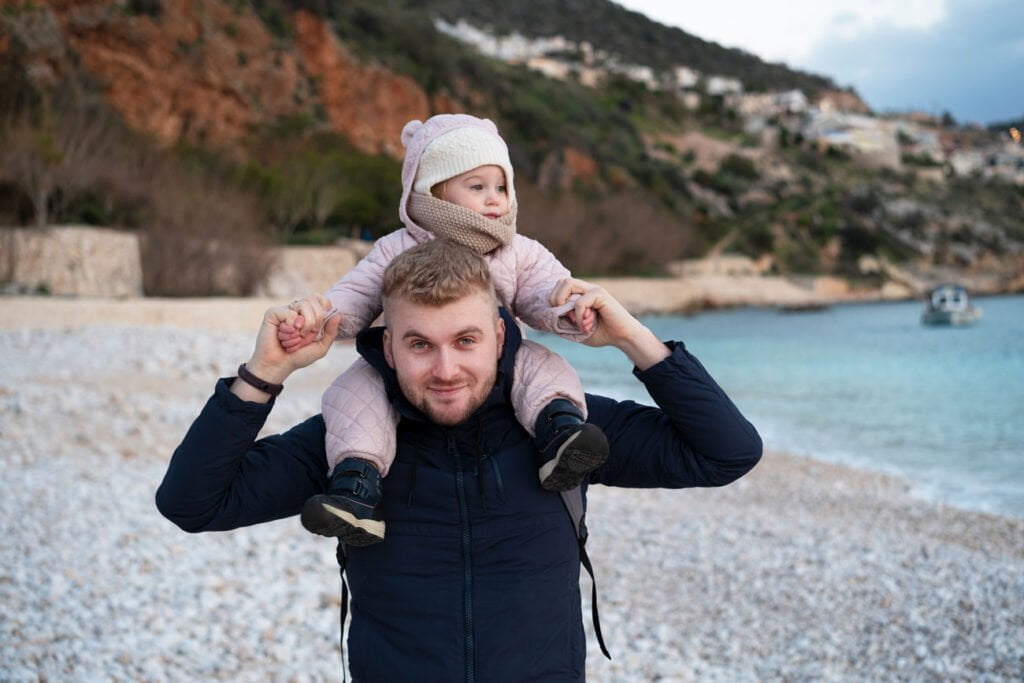 Top 8 Reasons to Visit Antalya
Antalya is a beautiful and charming city that has many reasons to make it on your tourist schedule, including:
Beautiful beaches:
Antalya has some of the most stunning beaches in Turkey with crystal clear waters and soft sands.

Rich history:
The city has a rich history that dates back to ancient times. There are many archaeological sites and historical landmarks to explore.

Delicious food:
Antalya is known for its delicious cuisine, with a variety of traditional Turkish dishes and seafood.

Natural beauty:
The city is surrounded by natural beauty, including stunning mountains and waterfalls.

Shopping:
Antalya has a wide variety of shops, from local markets to high-end boutiques.

Nightlife:
The city has a vibrant nightlife scene, with bars and clubs that cater to all tastes.

Adventure activities:
Antalya is a hub for outdoor activities, including hiking, rafting, and paragliding.

Welcoming locals:
Antalya is known for its friendly and welcoming locals who are always eager to share their culture and traditions with visitors.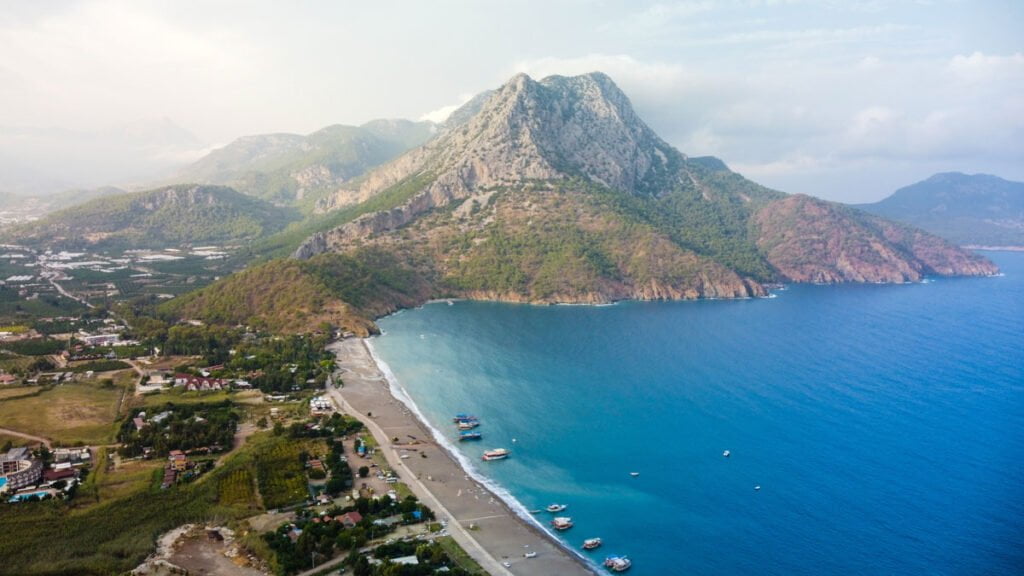 Antalya has a Mediterranean climate with hot and dry summers, and mild and rainy winters. The best time to visit Antalya is from April to November, when the weather is warm and sunny. The peak tourist season is during the summer months of July and August when temperatures can reach up to 40°C. The winter months of December to February are generally mild with temperatures around 15°C, but it can also rain frequently during this time.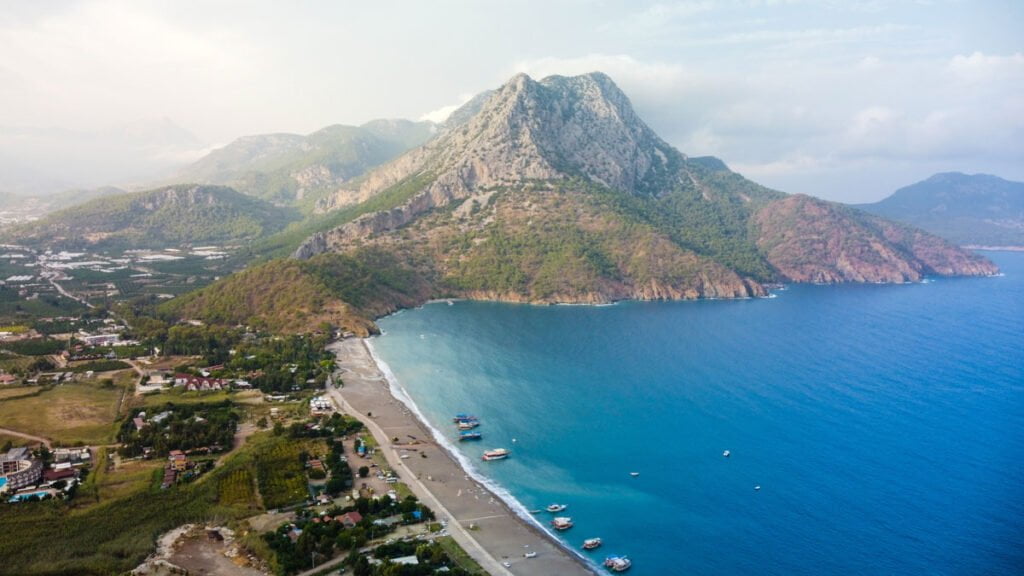 Antalya is situated on the flourishing southwestern coast of Anatolia, bordered by the Taurus Mountains. It is the largest city on the Mediterranean coast of Turkey with a metropolitan area of over two million people. The city is located at 36.91° N latitude and 30.70° E longitude, with an elevation of 61 meters above sea level. Antalya operates on the Eastern European Summer Time (EEST) time zone. To the west of the Antalya Gulf are the Bey Mountain group and Toros Mountains, which are located on the northeast side.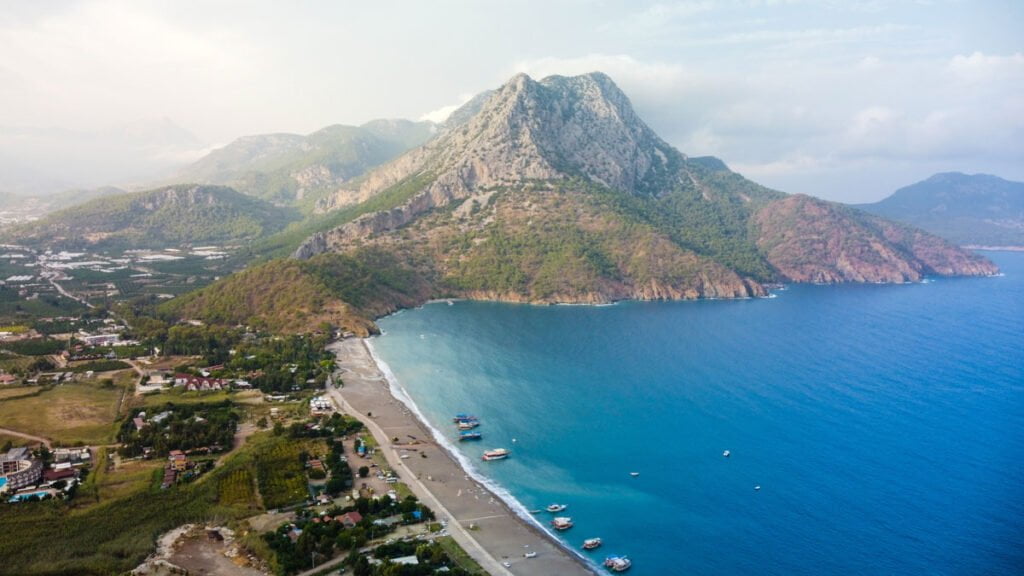 By plane
Antalya Airport, located 13 km (8 miles) east of the city center, is the most convenient airport for those traveling by plane. The airport is impressive and offers many shops and dining options. It is quite large, with ample seating areas for passengers waiting for their flights. Be sure to visit the Duty-Free Zones at the airport. Dozens of flights from various airports in Europe connect to Antalya Airport.
For more information, you can call (+90242) 330 32 33, (+90242) 330 3600, or fax (+90242) 330 31 30. If you're looking for a place to stay after a long flight or planning a return trip, browse nearby hotels.
Public buses from the airport: Antalya Airport offers transportation through tour operating companies, transfer companies, Havaş services, public buses, and taxis. Here's some information about the city buses that go from the airport to the town center and bus terminal:
Line 600 Airport-Bus Station: This service runs 24 hours a day and departs every thirty minutes. The journey from Antalya Airport to the city center takes approximately 40-45 minutes, while the trip to the bus station takes around 50-60 minutes.
Line 800 Airport-Lara-Konyaaltı: This service runs between 06:15 and 22:15 and departs every two hours.
The journey from Antalya Airport to the city center takes approximately 45-50 minutes, while the trip to the bus station takes around 55-60 minutes.
To use the public buses, you need to purchase a contactless payment card (Akbil) at the bus station, which costs 20 TL. So expect to pay 10 TL when you arrive at the station. To catch the public bus from the International Terminal, you need to go to the domestic terminal (300m away; turn right when you leave the International Terminal). There is a small blue "D" sign beside the taxi stand in front of the International Terminal. Note that taxi drivers may try to convince you that there are no buses leaving from there and offer you a ride.
A taxi ride between Antalya Airport and the city center takes around 20 minutes and costs about 15 USD (250 TL) during the day.
By road
By sea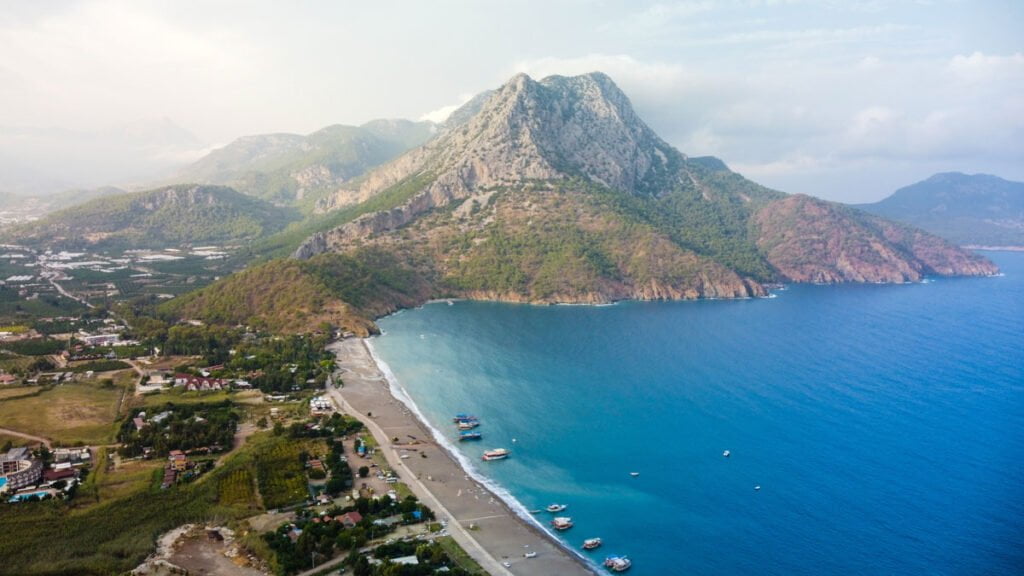 Antalya, Turkey has a comprehensive public transportation network, which includes public buses, trams, mini-buses, taxis, and dolmush (small buses).
Antalya has an extensive public transportation system with numerous buses serving every destination in the city. The fares are affordable, and most buses provide air-conditioning and TV, even for short routes. The municipality operates 40 buses, while the rest of the fleet consists of 160 privately-owned buses. Additionally, Pamfilya Transportation Company runs 89 buses, and there are over 400 privately-owned minibuses operating in the city.
The buses in Antalya have a system of letters that precede the route numbers on the signs posted on the front of the buses. These letters indicate the destination of the bus. For example, A is for Aksu, a town located to the east of Antalya. C is for Çarşı, D is for Döşemealtı, F is for Tıp Fakültesi, K is for Konyaaltı Beach, which is to the west of the town center, L is for Lara Beach, located southeast of the town center, M is for Masadağı, T is for Terminal, U is for Uncalı, and V is for Varsak. So, if you see a bus with the destination number CK04, it means that the bus runs between Çarşı and Konyaaltı Beach.
"Dolmush" is a Turkish word that means "filled up." It is a form of shared taxi or minibus that runs on a pre-determined route.
Most major public transportation stations have a dolmus station where you can take a seat in the dolmus that travels to your destination. Unlike buses, the dolmus does not wait until it fills up. Instead, it operates on a schedule. However, if the dolmus is empty and moves slowly in the hope of finding more passengers, it still needs to abide by its schedule and cannot wait for too long.
Antalya operates a two-line tram system which serves as a light rail system.
Line 1: Museum-City Center-Işıklar-Zerdalilik Nostalgic Tram
Line 2: Fatih-Bus Station-City Center-Meydan Modern Tram
The trams are comfortable, air-conditioned, and equipped with WiFi, although a Turkish cellphone number is required to register for the WiFi.
Tickets cost 10.75TL and can be purchased at stores around the stations or at specific AntRay counters. Payment can also be made through the Antalya contactless public transport card (Akbil), which can be recharged at vending machines near the tram stops. The vending machines support different languages, including English. If you're unsure, you can ask for assistance from the station guards.
There is a taxi stands all over the city where the drivers have their base and tea pot. Every taxi is metered, and there are two different rates. For popular destinations, price lists are showing the rate in Euro. A fair rate is about 0.8 to 8 Tl per kilometer.

After midnight (24:00) till morning (06:00), it will cost 50% more than the daytime fare.
Car rental start from here
Car rental is available at the bus terminal, airport and city center. It is advised not to use a car to reach city center (specially Cumhuriyet, Atatürk, Sarampol street, Isiklar streets and old town), as finding a car park and the way people drive might be little difficult. Be sure to abide non-parking limitation; the municipality is very strict about it. You will see a destination signs on the roads to guide you. Also, Most young locals know English, and they will be pleased to help about your destination.
You can also obtain a city map from tourist information desks in the city center.
Where to stay in Antalya?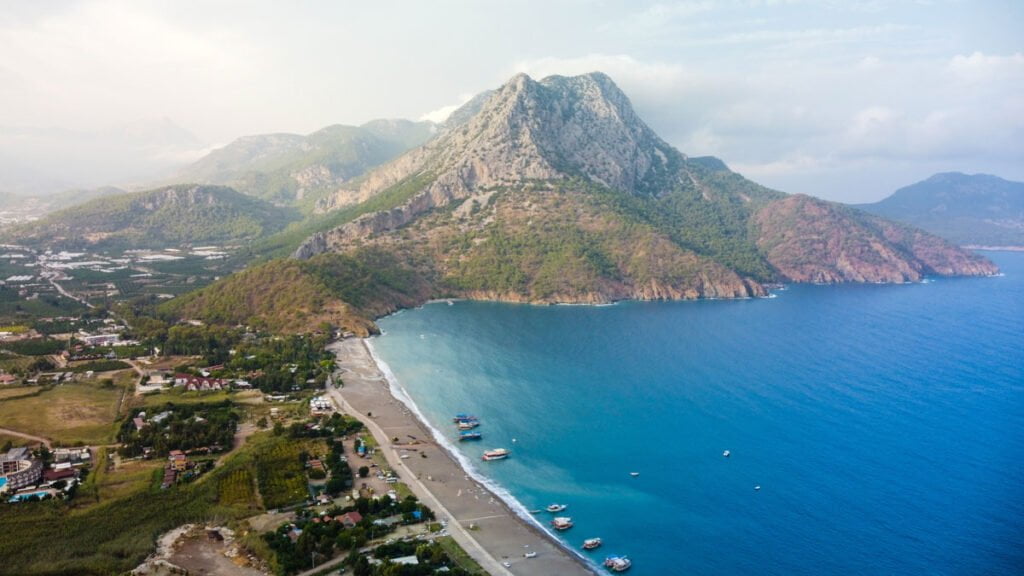 Whether you are traveling for pleasure or business, accommodation is the key to your trip,
So take into account your choices carefully to make your trip in Antalya more enjoyable, many types of hotels are available in Antalya to satisfy your wishes.
There are numerous of different options for Antalya hotels from pensions to 5 Stars Lodges, dedicated to keeping excessive standards of quality, hospitality, comfort, and cost-for-money.
Most of Antalya hotels are located in Lara, Belek, Kemer, Alanya and Side. Four and five stars hotels in Antalya are truly very capacious.
And in this type of hotels there is all kind of facilities and activities such as shopping centers, discos, eating places, gifts shops, beauty centers and much more. So during your holiday you may don't need to get out of your hotel.
If you are searching for a cheap hotel and traveling on a particular budget or if you want a remarkable vacation in style and enjoy a luxurious hotel with exceptional service, you can find a great variety of hotels to suit your need.
Below are descriptions of and what you can expect in Antalya hotels.
Expected luxury and all services, Worldwide chains (Hilton, Marriott, Ritz-Carlton, Sheraton, etc.) tend to be smoother but substantially more expensive than local Turkish chains (Divan, Dedeman, Merit, etc.), which offers a bit less class but better value.
In general, they provide a luxury restaurant, inside and outside pools, full-Service Spa, free Wi-Fi in public areas, free valet parking, free beach shuttle, gym and fitness center onsite.
Very comfortable local hotels, separate or small Turkish chains, multilingual staff, very nice restaurant and bar, aircon, perhaps swimming pool,and good breakfast.
Comfortable, with minibars, satellite TV, perhaps even a swimming pool or nightclub in smaller cities and resorts.
Good value! May have TVs in the rooms, or just a TV lounge; some pretensions to decor, decent breakfast.
Incredible value for the budget-minded, simple, often like a European pension. Not a lot of services, even though usually Wi-Fi, television in the lounge, clean rooms with (tiny) personal bath, and a simple breakfast.
Turkey has several brilliant vacationers' hostels and its comfortable, congenial, low-value, high-enjoyment lodgings centered at adventurous vacationers of every age,
however, in general, more young ones. The many offerings typically include Wi-Fi net get right of entry to, bars and lounges, tour-booking offerings, Air Conditioning, Bar, Free Wi-Fi, 24 Hour Reception, and may include private rooms with bath.
Places to visit in Antalya
Antalya draws millions of people with its beautiful nature and historical riches for visiting this city.
The combination of the sun, blue sea, the beautiful mountains that covered with trees cannot be seen effortlessly all collectively anywhere.
Here are the top Places to visit in Antalya :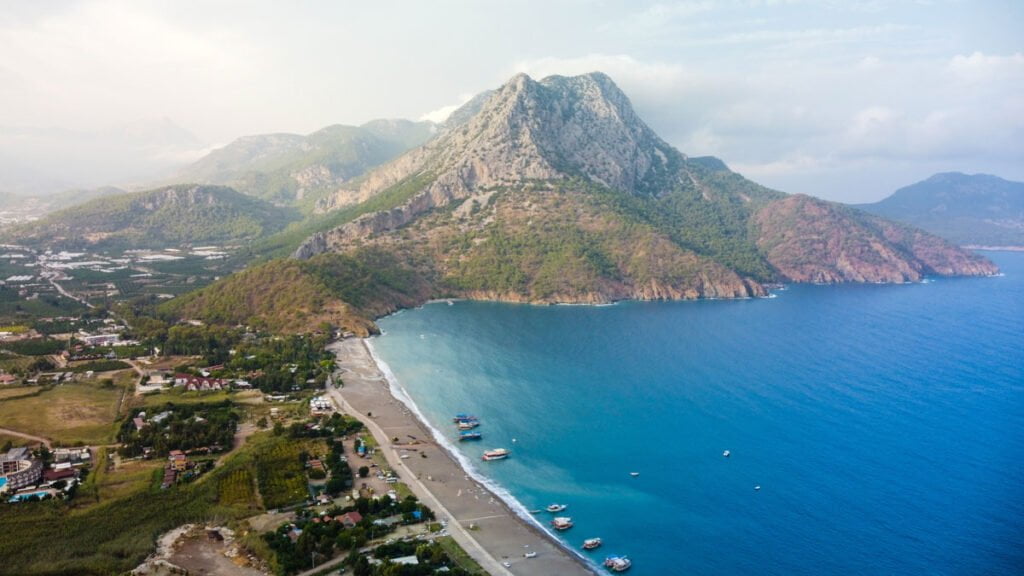 Certainly, worth a visit when you are in Antalya, the Antalya Museum or Antalya Archeological Museum was established in I922 by a teacher Süleyman Fikri is one of Turkey's largest museums, located in Konyaaltı. It has 13 exhibition halls and an open air gallery. It covers an area of 7,000 m² and more than 5000 works of art exhibited.
Some of the oldest exhibits date millions of years. And most of the artifacts are on display from a few thousand years. It is also allowed to take indoor photos but without using a flash.
Enjoy the visit, and you will also love the gift shop.
Do Not miss it as part of your trip.
Some of the oldest exhibits date millions of years. and most of the artifacts are on display from a few thousand years. it is also allowed to take indoor photos but without using a flash.
enjoy the visit and you will also love the gift shop.
Don't miss it as part of your trip.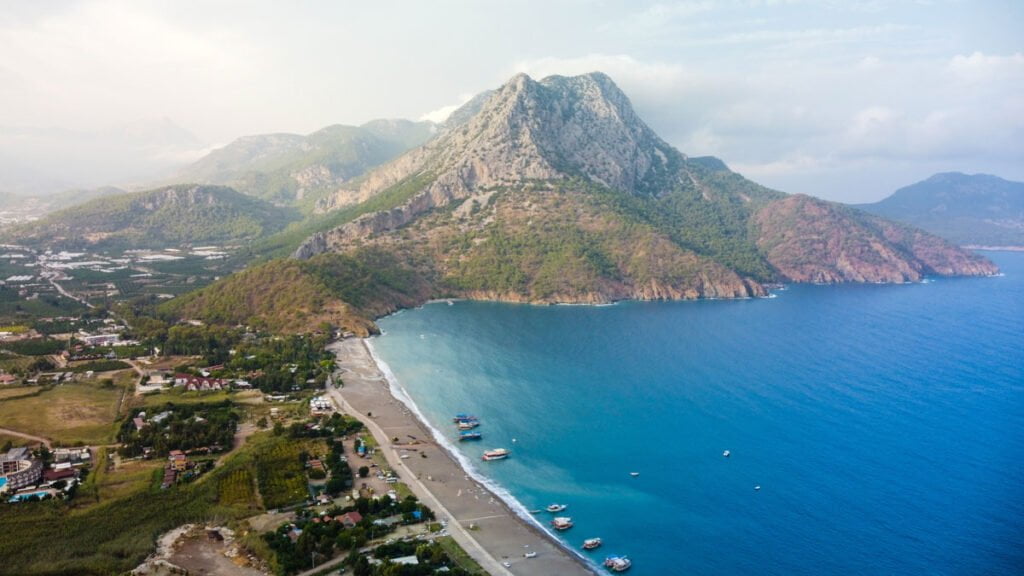 Antalya was actually found due to its good harbor long time in the past. One of the ancient port towns of the country.
After its discovery It became a major Mediterranean port of Asia and this area became one of the most critical places for trade by Romans.
A full range of services are given to the small boats and yacht there, from this marina to the locations in the close and far region, boat tours are available.
Within the bastion, (the quarters) encompassing this harbor were re-established. Today, it serves its guests with its bars, cafes, restaurants, discos and various shops inside a feel of 150 years in the past.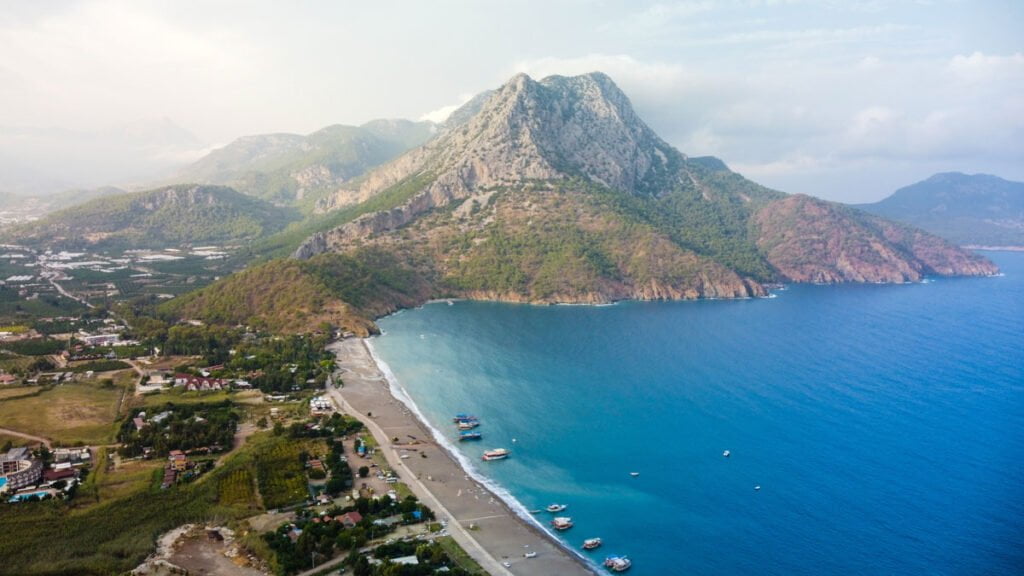 one of the largest underwater aquarium
This is a definite watch for anyone visiting this city.
This underwater Aquarium is the largest aquarium in the whole world. Don't miss the opportunity to experience the amphibian life from beneath the waters.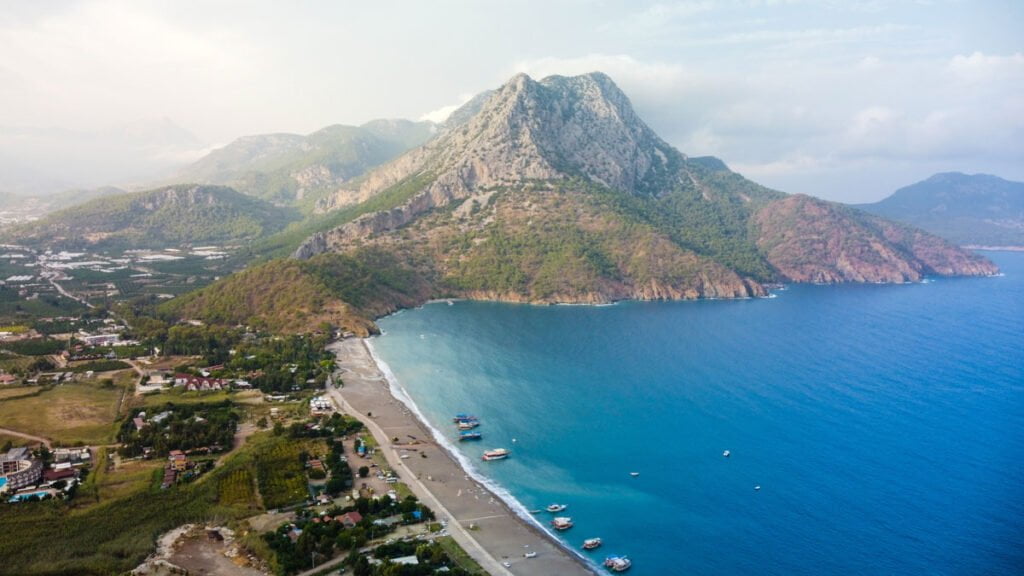 The old historical city of Antalya known as Kaleici (the inner castle) is surrounded by two walls, most of which have fallen. The inner wall encompasses the harbor in a semicircle. As a result of the renovation, Kaleici has turned into a major tourist center with guesthouses, hotels, bars, shops and restaurants, making this a popular tourist destination.
And the Roman Harbor has turned into a modern, well-equipped marina. As a result of the restoration work, the Ministry of Tourism was awarded the Golden Apple (Tourism Oscar) in April 1984 by FIJET.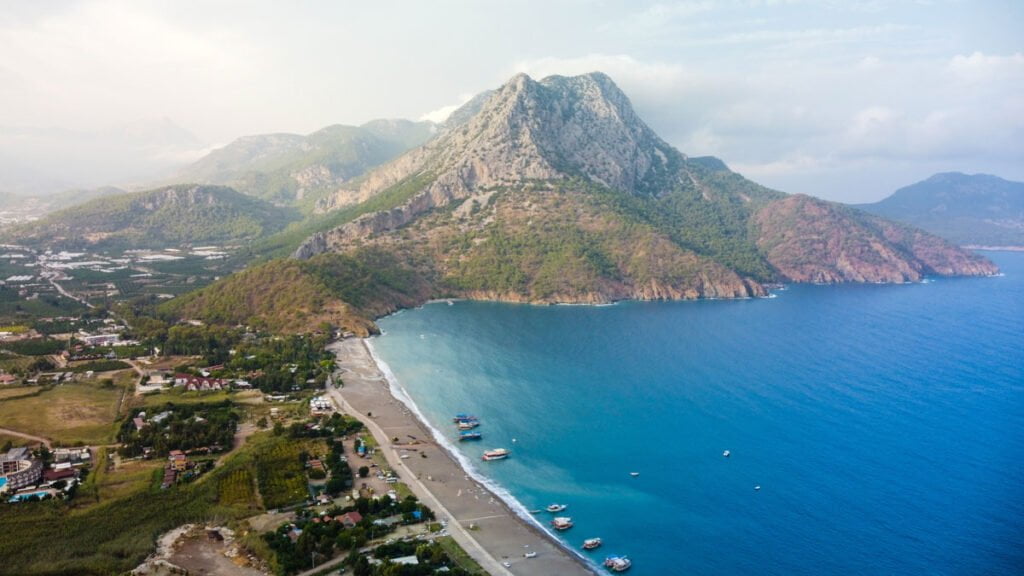 The Düden Waterfalls are a group of waterfalls natural attractions within the City of Antalya Turkey. Formed by the recycle station water, Düden Waterfalls are located 12 km north-east of Antalya.
The Upper Düden Waterfalls are a group of small cascades in a quiet park, and the Lower Duden Waterfall is a spectacular cascade that occurs as the Duden River spills off the Antalya City cliffs directly into the sea.
When visiting the upper falls within the park (10TL), don't miss climbing down a spiral staircase that will lead you into a cave behind the waterfalls. Also, you can take a boat trip to see the falls, which is amazing experience affords fantastic views through a curtain of falling water.
There are also various refreshment stalls for ice-cream and fruit juices.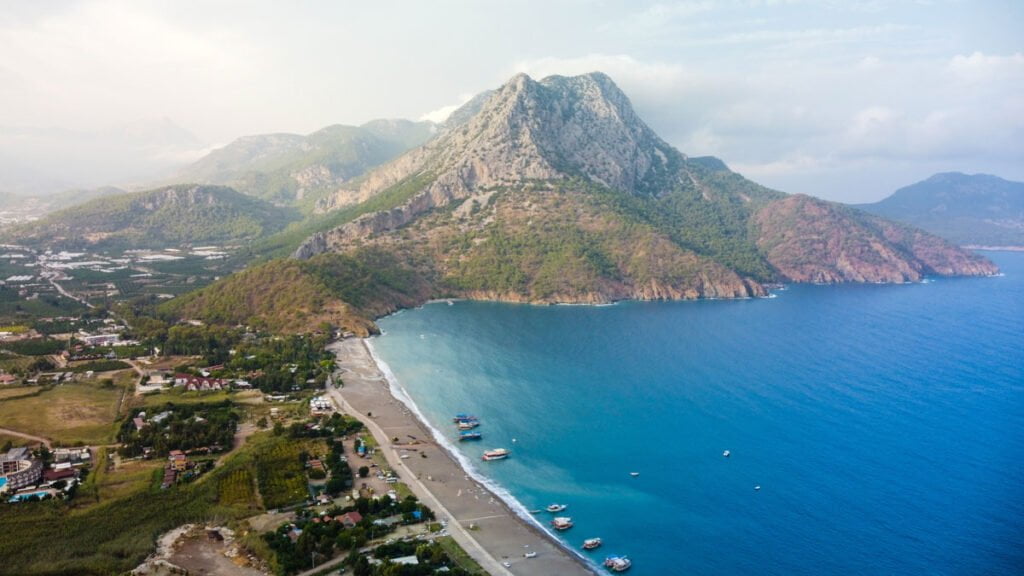 When traveling to Antalya, leave plenty of time for sightseeing – you wouldn't want to miss out on top attractions like Antalya Bazaar! This historic market area is known for its variable stuff, many shops, especially those selling jewelry.
We advise you to have a visit and enjoy your time there.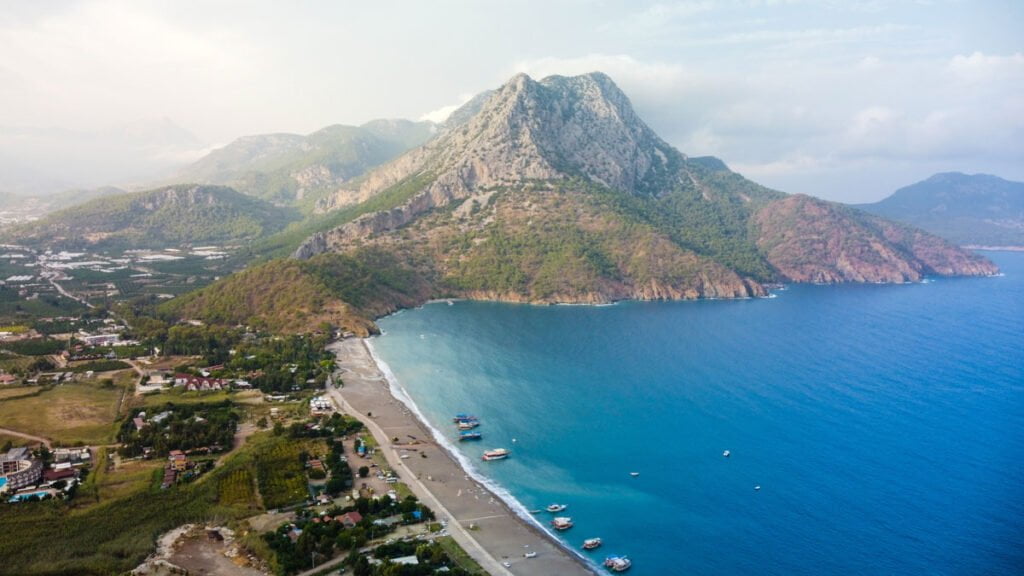 Situated by the ancient city walls, this remarkable 19th-century clock tower has a square shape, and it was constructed of rough and hewn stone to protect the old city of Antalya.
8. Hidirlik Kulesi (The Old Stone Tower)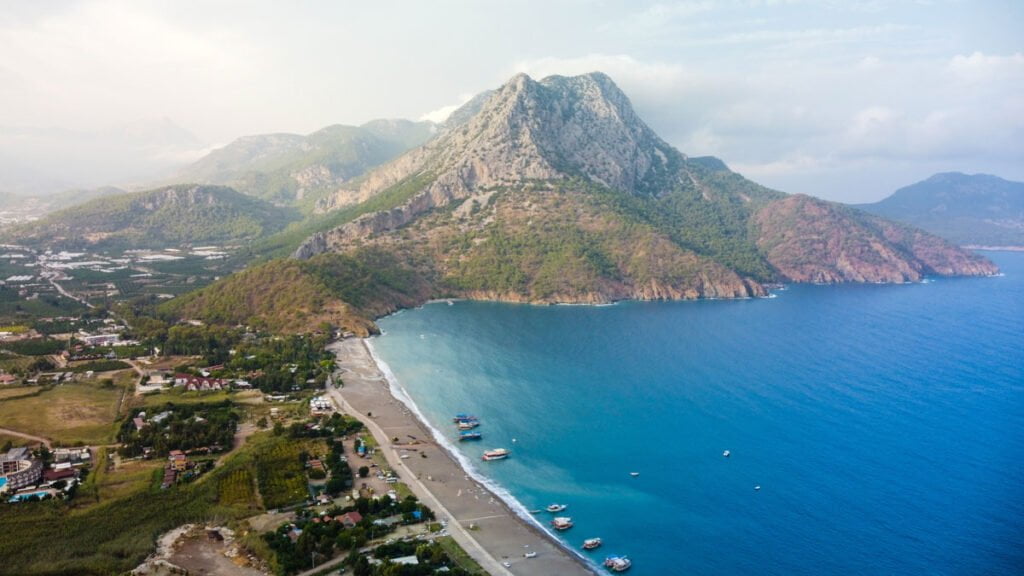 Antalya's Hıdırlık Kulesi is a landmark tower of tawny stone where Kaleiçi (Old Town) meets Karaalioğlu Park.
Its 14-meter-high tower, set in a small park, overlooks the cliffs of Antalya, and the Roman Harbor. Its establishment is said to date from the 1st or 2nd century AD
The purpose of it is something of a mystery. The common belief is this tower was built as a tomb for a great leader. Bits of fresco within encouraging this conjecture. To the right and left of the portal are 12 axe-like motifs cut into the stone (six stones each side), which indicates the importance of the person entombed.
This tower is located on a Hill end of Old Town. You came to a wonderful view of Mediterranean and Mountains. And you can reach there from the Harbor by 10 min walk.
9. Panoramic Elevator of Antalya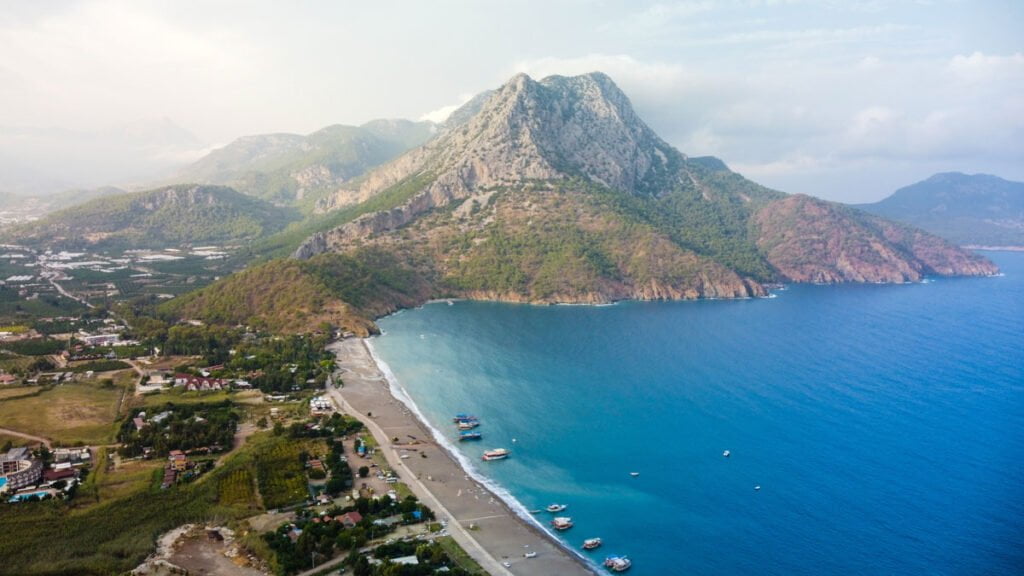 This elevator is efficient use for time-saving. A perfect short-cut to go from the harbor to Republic Square or vice versa with 10 minutes.
It's free entrance and the views are fantastic from the top, worth a quick visit.
Shopping in Antalya Turkey
Where to shop in Antalya?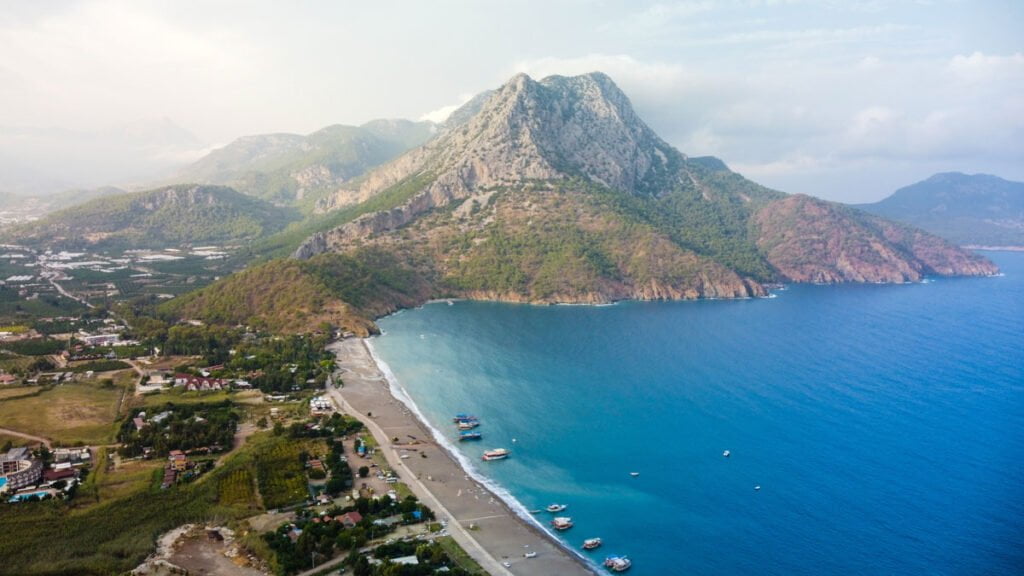 We are talking about the most populated cities in Turkey and a major tourist attraction. With a variable number of people who pass through on an annual basis, it shouldn't be any surprise that there are many shops and stores to satisfy visitors' shopping needs.
The usual souvenirs are fake designer clothing, blue eyes, kilims, shoes, waterpipes, aromatic herbs, and much more.
If you want to visit a modern shopping mall, TerraCity " on your way to Lara" and also Mark Antalya "close to the old town" do have all of the international designer shops you could wish for.
Antalya main shopping malls and supermarkets:
Kipa
G-Mall
Laura Shopping Center
Real – Shopping Mall
Covered wholesale food market
White World Center
Deepo Outlet Center
Tensas
Migros
Food and drink in Antalya Turkey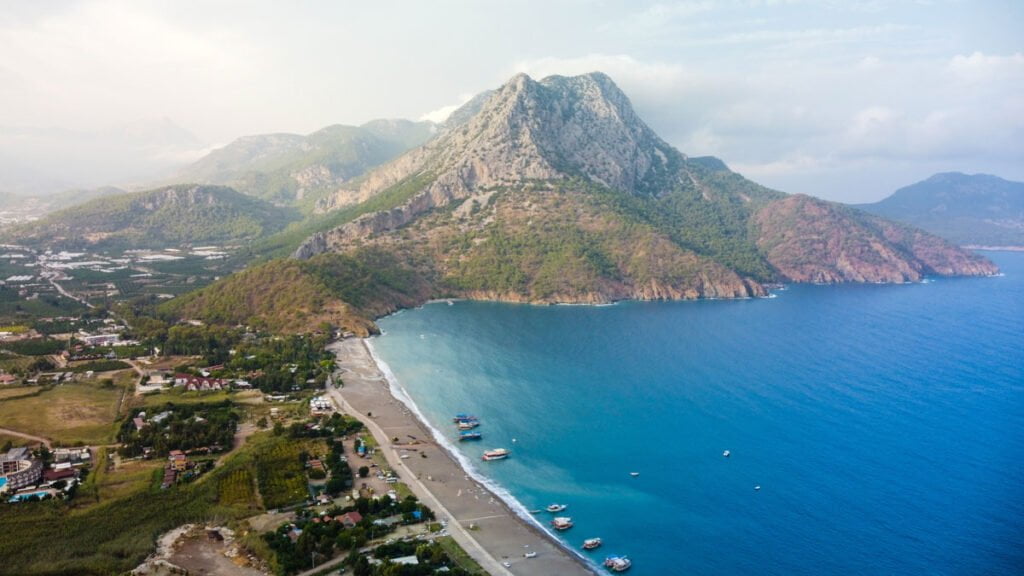 Food is incredibly cheap and delicious. Full meals will cost about 50 to 150 Turkish Lira, Service is amazing and only matched by its genuine friendliness. Antalya has excellent seafood restaurants as well. One thing to be aware of is to make sure the quoted price is the same as the price written on the menu.
Drink
Antalya has a lively nightlife in the summer. Many Options include bars with nargile (water pipe), games, live music and sitting around, discotheques with glamorous people, etc. On the Konyaalti's Beach Park one club follows the next. Some of the traditional houses of Kaleiçi (Old City) has been turned into bars, in which a bottle of 'Efes' old Turkish beer costs around 15 or 20 TL depending on the place. The gardens shaded by trees offer a nice environment with a beer from the peak of summer heat. Also, Raki is a traditional alcoholic beverage that tastes like licorice. Make sure you do not drink it fast otherwise you will be out quickly.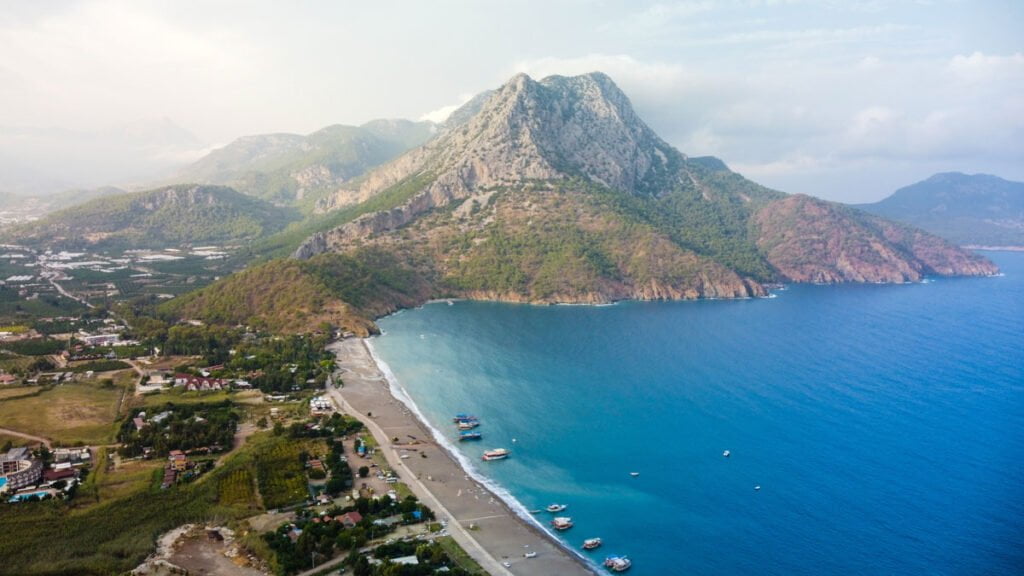 "tourism police" section where travelers can report passport loss and thefts or any other criminal activity; they may have become victims of. They have staff multilingual in English, French, German, and Arabic.
Tourism Police (Turizm Polisi), Kaleiçi Yat Limanı (at the marina below the old town),
Tel: +90 242 243-10-61 (fax: +90 242 345-41-13)