Experience Fashion and Elegance on Bagdat Avenue Istanbul
It's no surprise that I made the decision to choose an apartment next to Bagdat Street – a choice that has brought me continuous joy and satisfaction.
Welcome to the bustling and vibrant Bagdat Street in Istanbul, where fashion, culture, and gastronomy intertwine to create a truly unforgettable experience. As one of Istanbul's most iconic destinations, Bagdat Street offers a plethora of shopping opportunities, trendy boutiques, chic cafes, and fine dining establishments. In this article, we will delve into the allure of Bagdat Street, exploring its unique offerings and uncovering the secrets of its success.
Let's delve deeper into the enchanting Bagdat Street in Istanbul and allow me to share my wonderful neighborhood experience with you.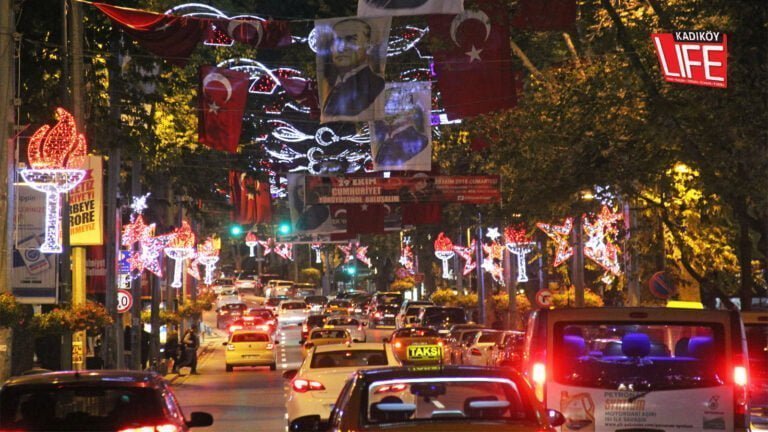 Bagdat Street in Istanbul holds a prestigious position as the 4th best shopping street in the world, as revealed by a study conducted by a renowned French company.
This vibrant neighborhood is not only known for its exceptional shopping scene but also for its affluent residential area, dotted with stunning mansions that add to its charm.
Strolling along Bagdat Street, you'll be greeted by a plethora of upscale cafes, trendy coffee houses, enticing restaurants, and stylish shops. The street truly caters to all tastes and preferences. As the sun sets, the atmosphere transforms, offering an array of lively options for an unforgettable night out. From trendy bars to cozy pubs and energetic clubs, Bagdat Street promises an exciting nightlife experience for visitors to revel in the vibrant pulse of Istanbul.
Location and how to get there
Bagdat Street, a renowned destination in Istanbul, is situated on the Asian side of the city. It stretches between the Bostanci and Goztepe neighborhoods within the vibrant Kadikoy district.
Go to the
location on the map
How to go to bagdat street by transportation
Getting to Bagdat Street is incredibly convenient due to its central location, which is surrounded by various means of transportation. Whether you prefer to travel by car, public transportation, or even on foot, you'll have no trouble reaching this bustling street.
If you're driving, you can easily access Bagdat Street from different parts of Istanbul, as it is well-connected to major roads and highways. Parking facilities are available along the street and in nearby areas, making it convenient for visitors with their own vehicles.
For those relying on public transportation, you'll find that Bagdat Street is well-served by buses, and dolmus (shared taxis), but the most practical way to get to Bagdat Street is via Marmaray train.
The Marmaray train line runs parallel to the coast, offering convenient access to Bagdat Street with several stations located in close proximity. If you're planning to visit Baghdad Street, we recommend getting off at Suadiye station. This station is the closest to the main street and requires just a short one-minute walk to reach the bustling heart of Bagdat Street. From Suadiye station, you'll find yourself immersed in the vibrant atmosphere of the street, ready to explore its many shops, cafes, and attractions.
Bagdat street istanbul directions
Shopping On Bagdat Street

Bagdat Street is known for its diverse range of shopping options, catering to both local residents and international visitors. From high-end designer brands to trendy fashion outlets, you'll find a wealth of choices to indulge your fashion desires. Stroll along the street and discover an array of clothing stores, shoe boutiques, and accessory shops, each offering their unique selection of stylish items.
For those seeking the latest in technology and electronics, Bagdat Street won't disappoint. Explore the modern technology stores and browse through the latest gadgets, smartphones, and cutting-edge electronics to keep up with the ever-evolving tech world.
If you're a lover of exquisite jewelry and accessories, prepare to be dazzled by the exceptional collection of jewelry stores and boutique shops. From sparkling diamonds to intricate handmade pieces, you'll find the perfect accessory to complement any outfit or make a special gift for a loved one.
Indulge your senses in the culinary delights of Bagdat Street. Delve into the gourmet food shops, where you can discover a wide range of local and international delicacies.
Beyond fashion and food, Bagdat Street is home to a variety of specialty stores catering to different interests. Explore bookshops filled with literary treasures, uncover unique home decor items in boutique stores, or peruse art galleries showcasing the works of talented local artists.
As you immerse yourself in the vibrant shopping scene, take a moment to soak up the lively atmosphere and enjoy the friendly interactions with local shopkeepers. Bagdat Street offers not only a fulfilling shopping experience but also a glimpse into the vibrant culture and warmth of Istanbul.
Bagdat street restaurants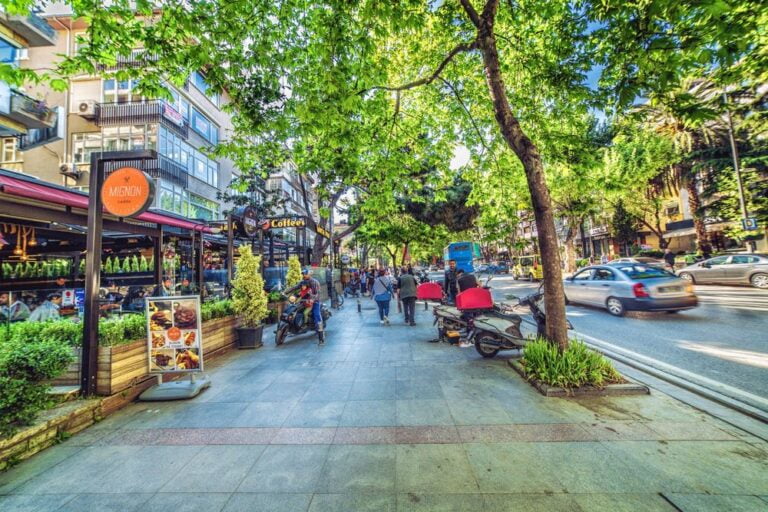 Immerse yourself in a culinary journey like no other as you explore the vibrant restaurant scene of Bagdat Street in Istanbul. This iconic street is not only renowned for its shopping options but also for its diverse and delectable dining experiences.
Bagdat Street boasts a wide range of restaurants, cafes, and eateries, each offering a unique and enticing menu to satisfy every palate. From traditional Turkish cuisine to international flavors, you'll discover a culinary tapestry that celebrates the rich gastronomic heritage of Istanbul.
Indulge in a delightful breakfast at one of the charming cafes scattered along Bagdat Street. Start your day with freshly brewed Turkish tea or coffee paired with a delectable selection of pastries, bread, and local delicacies. Take your time to savor the flavors and soak in the relaxed ambiance as you plan your day's adventures.
For lunch, the street presents a tempting array of options. Enjoy a traditional meze platter, filled with an assortment of flavorful small dishes, at a cozy Turkish taverna. Or, opt for a contemporary twist on Turkish cuisine at one of the trendy fusion restaurants that blend local ingredients with global culinary influences.
As the sun sets, Bagdat Street comes alive with a vibrant dining scene. Treat yourself to a memorable dinner experience at one of the elegant restaurants offering panoramic views of the city skyline. Delight in a candlelit ambiance as you savor mouthwatering dishes prepared with the freshest local ingredients. From succulent grilled meats to tantalizing seafood specialties, the options are endless.
If you're a fan of street food, don't miss the opportunity to explore the food stalls and vendors that line Bagdat Street. From savory kebabs and juicy burgers to traditional Turkish street snacks, you can sample a variety of flavors on the go. It's the perfect way to immerse yourself in the local food culture and try authentic flavors beloved by Istanbulites.
Whether you're a food enthusiast or simply seeking a memorable dining experience, Bagdat Street offers a culinary haven that will delight your taste buds and leave you craving for more.
Things To Do On Bağdat Street
Take advantage of Bağdat Street's proximity to the coastline and enjoy a relaxing stroll along the waterfront promenade. Breathe in the fresh sea air, admire the stunning views, and capture memorable moments against the backdrop of the Istanbul skyline.
Take a break from the bustling street and retreat to one of the nearby parks, such as Göztepe Park or Caddebostan Park. These green oases provide a tranquil escape where you can unwind and connect with nature. Find a shaded spot, spread out a picnic blanket, and enjoy a leisurely afternoon surrounded by lush greenery. Take a leisurely walk along the park's pathways, breathe in the fresh air, and immerse yourself in the peaceful ambiance. If you're traveling with children, the parks also offer playgrounds where they can run, play, and have fun. Whether you're seeking a peaceful moment of relaxation or a chance to engage in outdoor activities, the parks near Bağdat Street provide the perfect setting to rejuvenate and recharge.
Experience the Nightlife in Bagdat street:
s the sun sets, Bağdat Street transforms into a lively hub of entertainment. Explore the vibrant nightlife scene by visiting bars, pubs, and clubs offering live music, DJ performances, and a vibrant atmosphere.
Treat yourself to a spa day or indulge in a rejuvenating massage at one of the luxurious wellness centers or beauty salons along Bağdat Street. Unwind and relax as you indulge in a blissful experience of self-care.
No matter what your interests may be, Bağdat Street offers an eclectic mix of experiences that will captivate and inspire you. So, come and embark on an unforgettable journey filled with shopping, dining, culture, and leisure as you explore the wonders of Bağdat Street in Istanbul.
Bagdat Street in Istanbul is a bustling hub of fashion, culture, and culinary delights. With its range of high-end boutiques, trendy cafes, and cultural attractions, it offers an unparalleled experience for those seeking a unique and memorable shopping adventure. Whether you're a fashion enthusiast, a food lover, or a culture seeker, Bagdat Street will captivate you with its charm and leave you with lasting memories. So, prepare to indulge in the splendors of Bagdat Street and discover why it is regarded as one of Istanbul's most iconic destinations.