Marmaris is a Mediterranean resort town along the Turkish Riviera (also known as the Turquoise Coast) with a busy, pebbly beach and long seafront promenade. It's known for its lively nightlife on Bar Street, which is home to open-air clubs and music venues. Marmaris sits in a valley between pine-forested mountains and clear waters, which are popular sailing and diving destinations
Top Reasons to Visit Marmaris
Marmaris is a beautiful coastal city located in the southwestern region of Turkey. The city boasts stunning beaches, crystal clear waters, and breathtaking views of the Aegean Sea. Visitors can indulge in a range of water sports, explore ancient ruins, or simply relax on the beach. Marmaris is also known for its lively nightlife, with a range of bars and clubs to suit all tastes. The city's vibrant bazaar is another must-see, offering visitors the chance to haggle for souvenirs and sample local delicacies. With its mix of natural beauty, cultural heritage, and lively atmosphere, Marmaris is the perfect destination for anyone looking to experience the best of Turkey's coastal lifestyle.
Marmaris is a popular resort town located in the Mugla Province in southwestern Turkey, along the Mediterranean coast. It is situated about 130 km (80 miles) south of the city of Mugla, and approximately 100 km (62 miles) west of the popular tourist destination of Dalaman.
In Marmaris, the summers are hot, arid, and clear and the winters are long, cold, wet, windy, and partly cloudy. Over the course of the year, the temperature typically varies from 43°F to 92°F and is rarely below 35°F or above 97°F.
Top Things to Do in Marmaris
Here is our list of some of the top things to do in Marmaris that you really shouldn't miss durfing your trip.
1. Water Tours with Boat trips in Marmaris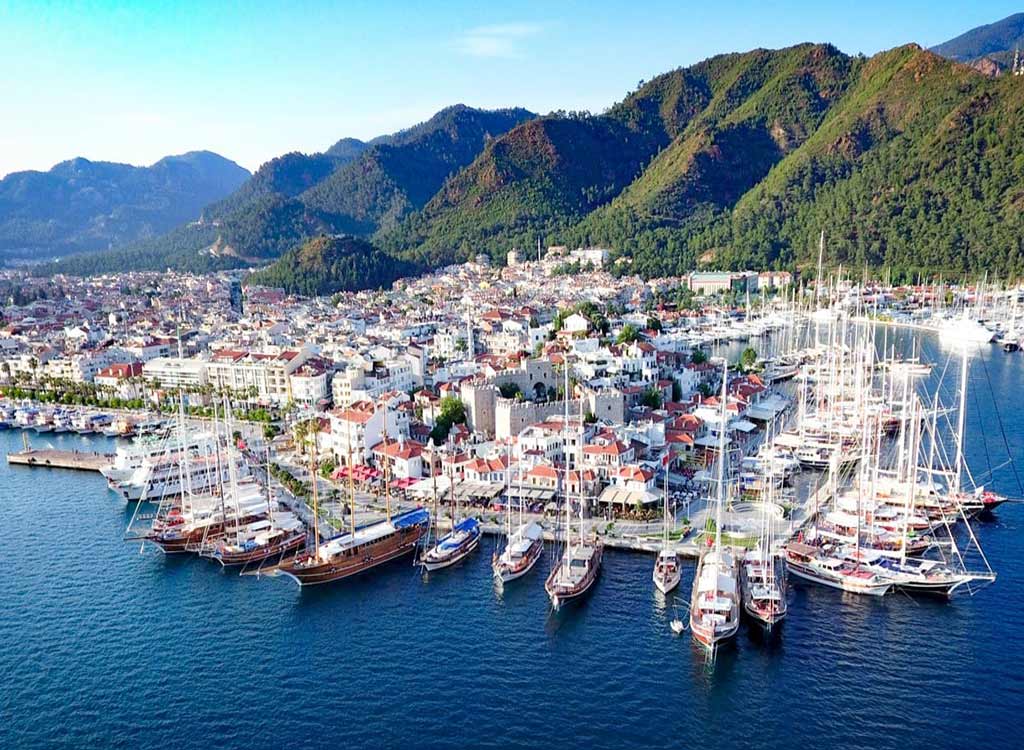 With Marmaris boat trips you will spend your beautiful day relaxing and soaking up the sun/rays/sunshine and shooting a few photos on a boat sailing across the crystal-clear waters.
You will also enjoy watching the fantastic islands and caves around you during this trip while you have your favorites drink. You can also dive the boat, enjoy snorkeling and swim.
Don't forget to bring your Camera, towels, sun cream, Masks, swimsuits, and Snorkel.
Get up early and have a stroll along the marina, check out the yachts you can only dream about and the occasional cruise ship.
It's spotless and well-kept area of Marmaris with fantastic bars and places to eat. There is something for everyone in this area of the resort, Lots of shops to haggle in and a lot of friendly faces.
A trip to Marmaris isn't complete without visiting the marina on a night, what a beautiful place on a night when it's all lit up, and you are having a few drinks and a nice stroll looking at the yachts.
It's also a beautiful place on a night when it's all lit up, and you are having a few drinks and a pleasant stroll looking at the yachts.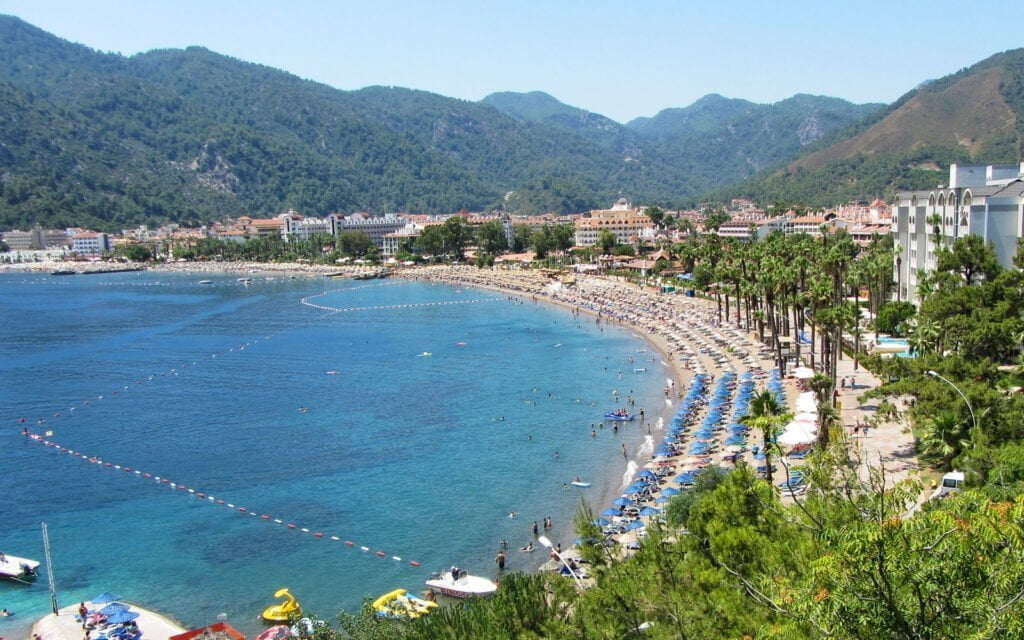 Icmeler is a beautiful little town, a stunning
beach
, and views of the mountains, lots of excellent restaurants, and hotels.
About 8 km away from Marmaris center, you can reach Icmeler beach easily by Dolmush (minibus with 2 liras), much cheaper than the taxi (40 liras) if you like to.
Find out
The Best 10 Beaches in Marmaris
Are you looking for relaxing and peaceful holidays ?? then you have to go to Dalyan region its nice place.
You will go on a boat trip from Marmaris to Dalyan. It takes about 2 hours in which you can see fantastic views of mountains and scenery. We would recommend if you are looking to capture some memorable photos.
5. Marmaris Castle & Museum
If you are interested in history, Marmaris Museum might be your destination because this place is full of it, And well worth a visit.
Marmaris Museum is one of the most famous museums there. It's an excellent place to visit if you're near the beach or marina. A little bit of history of Marmaris, the Museum is located on the site of the beautiful Marmaris Castle, at the old town of Marmaris, on the hills behind Marina.
You get to see lovely views from the top of the castle walls surrounded by the old ancient beautiful streets. The castle is full of old objects that were used back in the day such as cannon balls, rocks, machinery, jewelry, and coins all that were used during the Ottoman period. The castle explains the trade routes that connected Marmaris to surrounding countries as far as Europe and Africa.
keep going with the best things to do in Marmaris.
6. Marmaris Musical Dancing Fountain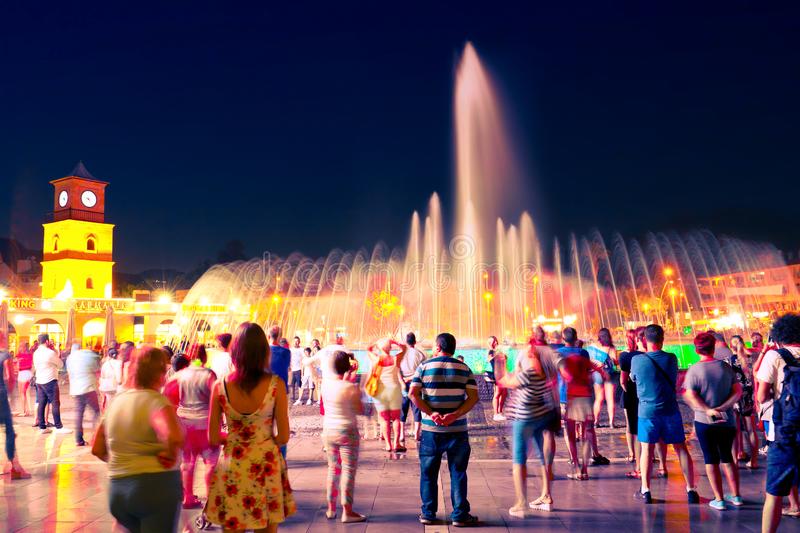 Love the dancing fountains with great music and Love looking at the colors of the water it means the Marmaris dancing fountain
A favorite among kids and their parents alike, this is quite a major tourist magnet in the heart of Marmaris town center.
What might just strike you like a crowded plaza with a fountain during the day transforms into a hub for music, laughter, and revelry by night. At about half past eight every night, lights and music bring life to the fountain and become the backdrop for some of the town best shows and performances.
Several restaurants are strategically located along the streets that converge on the fountain, and tourists are often seen enjoying dinner and drinks while the dancing water adds magic to the night air in town.
7. Marmaris Barbossa pirate boat trip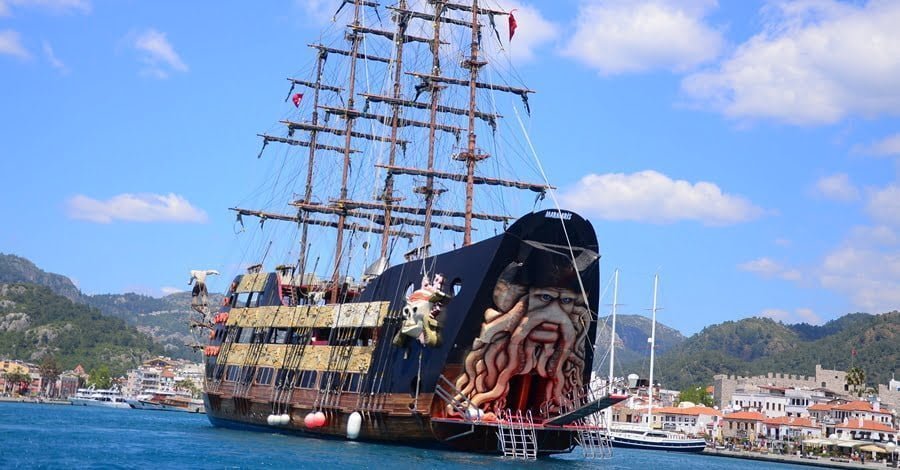 The pirate ship has arrived in Barbossa , I feel so excited, Dont you ??
This trip is one of the most popular and favorite tourist excursions – the famous Pirate boat designed for more than 400 people and it is the largest pirate ship in all of Europe and Turkey .
8. Sultan Traditional Turkish bath
Of course, I will not make a list of things to do in Marmaris without mention Sultan Traditional Turkish bath.
Your Holiday in Marmaris – Turkey is never complete without a Turkish bath! And, Marmaris is one of the places you will find a lot more Turkish baths, we would highly recommend you start your Holiday with Traditional Turkish bath and enjoying 2 hours of bliss.
Sultan traditional Turkish bath is a relaxing and rejuvenating experience, from the moment you enter you made to feel special the Lovely so friendly welcoming staff.
Sultan Bath Marmaris is a full service of Sauna, Scrubbing, Foam Massage, Chocolate Body Mask, Aromatherapy Massage, Fish Therapy.
This is the Turkish bath and massage you won't be disappointed at all.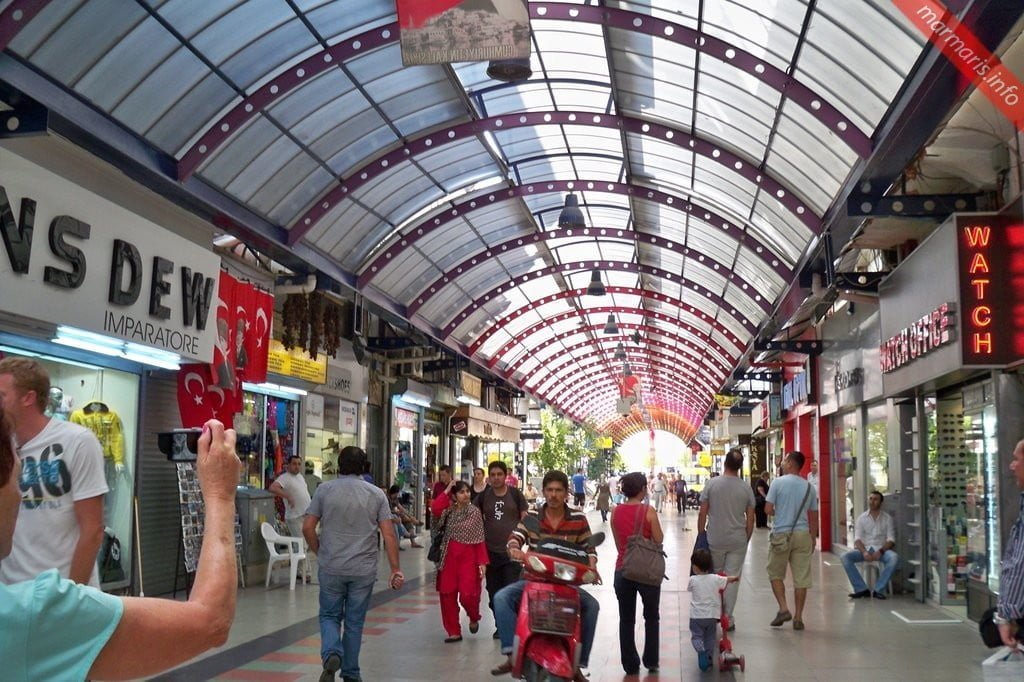 It's time for having some shopping, Marmaris Grand Bazaar is the place to haggle to your heart's content, also known as Carsi Market is the most popular shopping area in Marmaris located at the central Marmaris, by the shore.
Grand Bazaar one of the oldest markets in Turkey where you can get traditional artifacts.
You can also buy clothes, Jewelry, leather, carpets, clothing, local food and drinks, fishing equipment and souvenirs and lots of other gift items as souvenirs.
Visiting the Grand Bazaar is one the excellent thing to do in Marmaris, don't miss it.
10. Bar Street in Marmaris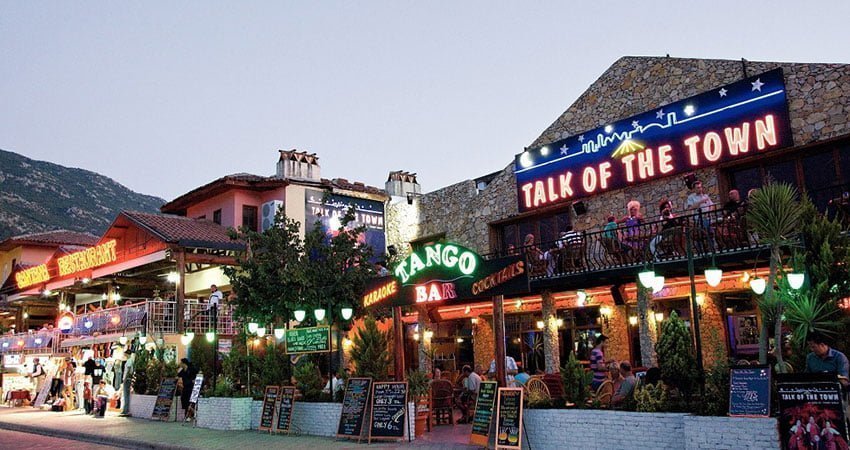 It's time for having a great night out with varied music and plenty food places, dancing and enjoys good company, Bar street Marmaris is an absolutely a great place to be on a night out with a brilliant atmosphere.
Here were a
top 10 things to do in Marmaris
don't miss it during your vacation, I will be glad to hear your feedback if you have visited one of these places before.
May you also want to check this article 
The Ultimate Travel Guide to Antalya