Overview on 212 Istanbul power outlet mall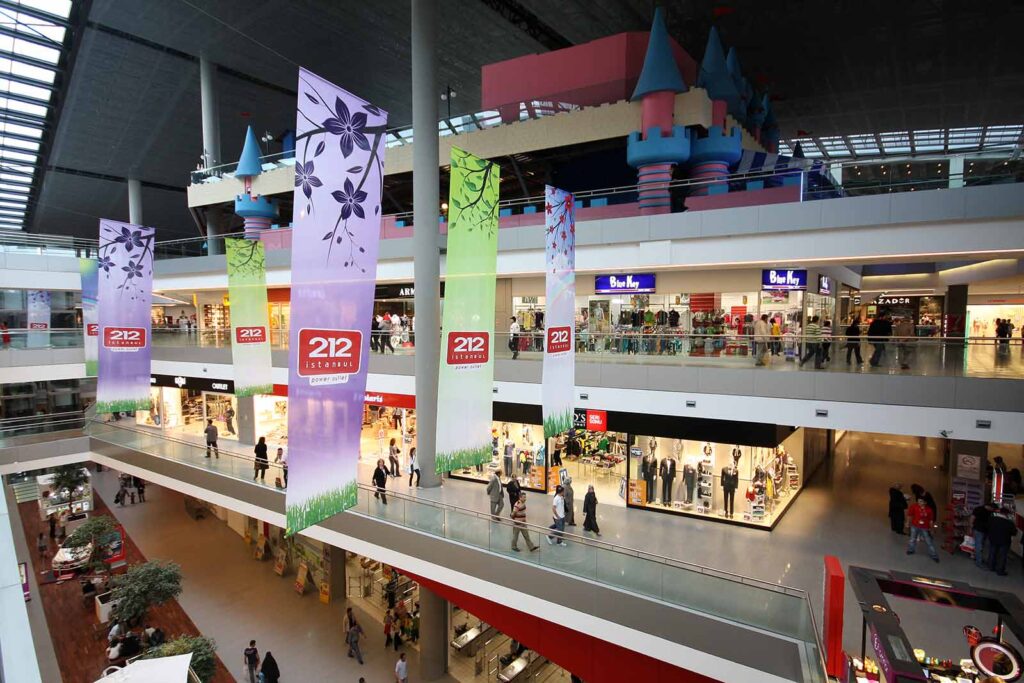 Welcome to a shopping paradise that's about to elevate your retail therapy experience – the renowned 212 Istanbul Power Outlet. Located at the heart of this bustling metropolis, this outlet is not just a shopping destination; it's an adventure waiting to be explored.
Step into a world where shopping dreams come true. 212 Istanbul Power Outlet stands as an emblem of Istanbul's vibrant shopping scene. Here, high-end brands, irresistible deals, and an electrifying shopping ambiance converge, making it one of the most sought-after outlet malls in Istanbul. Whether you're a fashion enthusiast seeking the latest trends or a savvy shopper aiming for remarkable bargains, this outlet caters to every taste and style. The expansive layout promises a comfortable and leisurely shopping experience, allowing you to immerse yourself in a world of fashion, accessories, electronics, and more, embodying the essence of shopping in Istanbul.
Stores Beyond Your Imagination
Prepare to be dazzled as you stroll through a world of shopping possibilities. At 212 Istanbul Power Outlet, an extensive array of stores awaits your exploration. From globally recognized brands to local treasures, this retail haven brings the world's finest under one roof.
For fashion aficionados, premium clothing stores showcase the latest collections, offering a chance to elevate your wardrobe with chic ensembles. From sophisticated evening wear to casual elegance, the choices are endless. Sports enthusiasts can also find their haven here, with stores dedicated to athletic gear and outdoor essentials.
But it's not just about fashion – immerse yourself in lifestyle boutiques that curate exquisite home décor, fragrances, and accessories. Embrace the joy of discovering unique pieces that resonate with your personal style, making every visit a journey of self-expression.
Reaching 212 Istanbul Power Outlet
Getting to 212 Istanbul Power Outlet is as seamless as your shopping experience there. Whether you prefer public transport, taxis, or private vehicles, rest assured that your journey will be as enjoyable as the destination itself.
If you're using public transportation, Istanbul's well-connected network ensures that you can reach the outlet without hassle. Taxis offer a convenient and straightforward option, allowing you to sit back and relax as you're chauffeured to your shopping haven. For those seeking an elevated experience, private transfers provide a touch of luxury, ensuring a comfortable and stylish journey.
Where to Find 212 Istanbul Power Outlet
Situated within the vibrant Bağcılar/İstanbul, 212 Istanbul Power Outlet harmoniously integrates with the city's rhythm. , it's the ideal starting point for a day of shopping and exploration.
Nestled amidst Istanbul's urban pulse, the outlet becomes a hub where locals and tourists alike converge to indulge in a world of shopping excitement. Its strategic location not only offers easy accessibility but also invites you to explore the surrounding attractions, turning your shopping spree into a comprehensive Istanbul experience.
Shopping Smarts: Hints for a Stellar Experience
Maximize your shopping adventure with a few insider tips to enhance your visit. Plan your excursion during special sales events to enjoy exceptional savings on your favorite brands. Keep an eye out for exclusive deals and limited-time offers that add an extra layer of excitement to your shopping spree.
As you navigate the outlet's labyrinth of stores, explore unique boutiques that offer one-of-a-kind finds. These hidden gems often hold treasures that perfectly align with your tastes and preferences. Don't hesitate to strike up conversations with store staff; their insights can lead you to unexpected discoveries that transform your shopping experience into a personalized journey.
Beyond Shopping: A World of Entertainment and Dining
At 212 Istanbul Power Outlet, shopping is just the beginning. Immerse yourself in a realm of entertainment and dining options that cater to your senses. From cinemas to delectable eateries, your experience extends beyond shopping bags.
After an exhilarating shopping spree, recharge your energy at a diverse range of dining establishments. Indulge in mouthwatering cuisines that span the globe, from Turkish delights to international flavors. Whether you're craving a hearty meal or a quick bite, the outlet's dining options ensure that every palate is satisfied.
Embarking on an Enriching Adventure
Uncover a world where the best of Istanbul converges. Connect with local culture, style, and hospitality, all while indulging your shopping cravings. This is more than an outlet; it's a journey of discovery.
As you explore the vibrant aisles and bustling stores, you're not just shopping; you're immersing yourself in Istanbul's essence. Interact with fellow shoppers, engage with store staff, and embrace the cultural tapestry that surrounds you. Each purchase becomes a souvenir of your adventure, carrying the stories and memories of your time spent at 212 Istanbul Power Outlet.
Elevate your shopping escapade at 212 Istanbul Power Outlet, where trends, brands, and memories seamlessly intertwine. Discover the heart of Istanbul's shopping allure, and relish an experience that's not just about buying; it's about embracing the essence of Istanbul's style and culture.
By embracing this comprehensive guide, you're poised to dive into the rich world of 212 Istanbul Power Outlet and make lasting memories while exploring the vibrant tapestry of Istanbul's shopping scene.