About İstanbul Cevahir shopping mall
Welcome to Istanbul Cevahir Mall, the largest and most iconic shopping destination in the city center of Istanbul, Turkey. With its vast array of shops, entertainment options, and dining experiences, Cevahir Mall has become a beloved hotspot for both tourists and locals alike. Situated in the bustling Şişli district, Istanbul Cevahir Mall stands as a testament to modern shopping and leisure. Whether you're a seasoned shopaholic or simply looking for a fun day out, Istanbul Cevahir Mall has something special to offer everyone, making it one of the best outlet malls in Istanbul.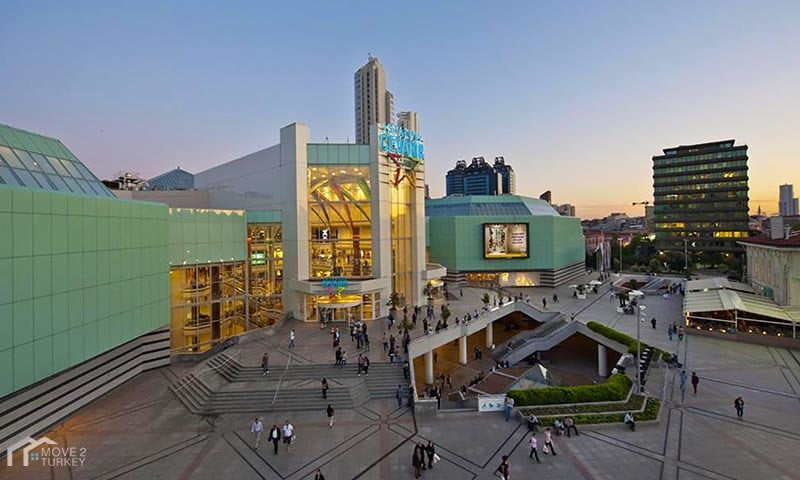 Istanbul Cevahir Mall is a shopper's paradise, offering an incredible range of attractions and experiences to satisfy all your retail cravings. With over 150 popular brands to choose from, fashion enthusiasts will be delighted to explore the latest trends and collections from both local and international designers. From high-end luxury boutiques to affordable and stylish options, Cevahir Mall caters to every taste and budget.
Beyond the diverse shopping options, the mall boasts a plethora of dining experiences. Indulge in the rich flavors of Turkish cuisine at the various restaurants, where you can savor traditional dishes crafted with local ingredients. If you're in the mood for a quick bite or international flavors, the mall's cafes and eateries have you covered with a wide selection of fast-food chains and international cuisines.
For movie lovers, the cinema at Cevahir Mall offers the ultimate cinematic experience. Catch the latest blockbuster releases in comfortable, state-of-the-art theaters equipped with cutting-edge audio and visuals.
The fun doesn't stop there! Cevahir Mall ensures that visitors of all ages have a blast at the Fun Lab entertainment center. Whether you're traveling with kids or just young at heart, this amusement center offers interactive games, thrilling rides, and exciting activities that will keep you entertained for hours.
With its extensive offerings and inviting ambiance, Istanbul Cevahir Mall promises an unforgettable shopping experience for everyone. Whether you're seeking the latest fashion trends, delectable cuisines, or immersive entertainment, this beloved mall has it all. Come and discover why Cevahir Mall is the crown jewel of Istanbul's shopping scene.
Opening hours of Cevahir Mall
As for the mall's operating hours, Istanbul Cevahir Mall opens its doors daily at 10:00 AM, allowing you to start your day of shopping and exploration early. The mall remains open until 10:00 PM, providing ample time for you to browse, shop, dine, and immerse yourself in the vibrant atmosphere.
Services provided by Cevahir Mall
Istanbul Cevahir Mall goes above and beyond to ensure that your shopping experience is not only enjoyable but also convenient and comfortable. The mall offers a wide range of services to cater to the needs of every visitor. Here are some of the services provided:
Information Desk: Upon entering the mall, you'll find a dedicated information desk staffed with friendly and knowledgeable personnel. Whether you need directions, information about stores, or assistance with any aspect of your visit, the information desk is there to help.

ATMs: To make your shopping spree hassle-free, Istanbul Cevahir Mall has strategically placed ATMs throughout the premises. These ATMs accept various bank cards, allowing you to withdraw cash conveniently whenever needed.

Baby Care Room: Families with young children will appreciate the mall's thoughtfulness in providing a well-equipped baby care room. This facility is equipped with changing tables, feeding chairs, and other amenities to cater to the needs of infants and toddlers.

Disabled Facilities and Wheelchair Availability: Istanbul Cevahir Mall is committed to ensuring that all visitors can enjoy its offerings comfortably. The mall provides facilities for visitors with disabilities, including ramps, accessible restrooms, and dedicated parking spaces. Additionally, wheelchair availability is offered for those who require mobility assistance.

Storage Lockers: As you explore the mall and indulge in retail therapy, you may accumulate shopping bags and belongings. For your convenience, Istanbul Cevahir Mall offers secure storage lockers where you can safely stow away your packages while continuing your shopping spree unencumbered.

Prayer Room: For those seeking a moment of tranquility and reflection, the mall features a serene prayer room. This prayer room provides a quiet space for visitors to engage in prayers and meditation.

Lost and Found: If you happen to misplace an item during your visit, don't worry! Istanbul Cevahir Mall has a designated lost and found area to help you recover your belongings.

Parking: The mall offers ample parking space for visitors arriving by car. With easy access and secure facilities, you can confidently park your vehicle and begin your shopping adventure.
Istanbul Cevahir Mall is not only a paradise for shoppers but also a delightful wonderland of entertainment for kids. Whether you're traveling with young children or just young at heart, the mall offers a variety of attractions to keep the little ones entertained and enthralled.
Theater: The mall features a dedicated theater that hosts captivating live performances and events suitable for children. From interactive storytelling to puppet shows and educational performances, the theater provides a platform for creative and imaginative experiences for kids.

Cinema: For movie-loving families, the cinema at Istanbul Cevahir Mall is a must-visit destination. With comfortable seating and advanced audio-visual technology, the cinema screens the latest animated films and family-friendly blockbusters. Enjoy quality time with your loved ones while immersing yourselves in the magic of the big screen.

Fun Lab: The Fun Lab amusement center is the ultimate playground for children of all ages. Bursting with excitement and adventure, the Fun Lab offers a wide range of interactive games and attractions that cater to different interests and age groups. From thrilling rides to challenging games and creative activities, kids can let their imaginations run wild in this fun-filled wonderland.
As you venture through Istanbul Cevahir Mall, be sure to check the schedule for theater performances and movie screenings to plan a day of entertainment tailored to your family's preferences. Whether it's engaging with live performances, enjoying a heartwarming film, or unleashing boundless energy in the Fun Lab, Istanbul Cevahir Mall has a world of entertainment awaiting the youngest members of your family.
Brands in Istanbul Cevahir Mall
Istanbul Cevahir Mall boasts an impressive collection of popular clothing, sportswear, and cosmetic brands. From renowned international labels to beloved local favorites, you'll find a wide range of options to suit every style and preference. Some of the sought-after brands available at Cevahir Mall include Zara, H&M, Nike, Adidas, MAC Cosmetics, Sephora, LC Waikiki, Defacto, Colins, Mango, and many more. These fashion-forward brands ensure that shoppers can stay on-trend and find the perfect outfits and accessories to express their unique style. Whether you're a fashion enthusiast or simply looking to upgrade your wardrobe, Cevahir Mall has the brands you love and trust.
Restaurants in Cevahir Mall
Istanbul Cevahir Mall offers a delightful culinary journey with its diverse selection of restaurants, catering to a variety of tastes and preferences. Whether you're craving traditional Turkish cuisine, international flavors, or a quick bite from popular fast food chains, the mall's dining options have something to satisfy every palate. Here's an overview of the food options you can indulge in at Cevahir Mall:
Turkish Cuisine: Immerse yourself in the rich flavors of Turkish cuisine at the mall's traditional eateries. From mouthwatering kebabs and savory mezes to aromatic Turkish coffee and baklava, you'll experience the authentic tastes of Turkey.

International Delights: Cevahir Mall takes you on a global culinary adventure with a wide array of international cuisines. Whether you're in the mood for Italian pasta, Japanese sushi, or American-style burgers, you'll find a diverse selection of international dishes to choose from.

Fast Food Chains: For a quick and convenient meal, the mall features popular fast food chains that offer familiar favorites. Whether it's crispy fried chicken, cheesy pizzas, or refreshing salads, these eateries cater to those looking for a speedy and tasty dining experience.

Cafes: Need a pick-me-up or a moment to relax? Cevahir Mall's cafes provide the perfect retreat. Enjoy a variety of coffee blends, teas, and delicious pastries while taking in the bustling ambiance of the mall.

Bakeries: Satisfy your sweet tooth with a visit to the mall's bakeries, where you'll find a delectable assortment of freshly baked goods, including bread, cakes, cookies, and other sweet treats.
With a vast selection of dining options, Istanbul Cevahir Mall ensures that your culinary cravings are well taken care of. Whether you're enjoying a leisurely meal with family and friends or grabbing a quick bite between shopping sprees, the mall's restaurants and eateries offer a delightful dining experience to complement your day of exploration.
Hotels around Cevahir Mall
For travelers seeking convenience and proximity to the bustling Istanbul Cevahir Mall, the surrounding Sisli and Mecidiyeköy districts offer a diverse selection of hotels to choose from. Staying near the mall allows you to maximize your shopping time and explore the vibrant neighborhood at your leisure. Here are some of the hotels that provide easy access to Cevahir Mall:
These hotels are just a few examples of the many options available in the vicinity of Istanbul Cevahir Mall. Whether you prefer luxury accommodations or cozy boutique hotels, staying near the mall ensures that you can make the most of your time exploring the diverse shopping, dining, and entertainment experiences the area has to offer. Enjoy the convenience of being just a stone's throw away from the retail haven that is Istanbul Cevahir Mall.
As we come to the end of our journey through Istanbul Cevahir Mall, it's evident that this shopping paradise is so much more than just a mall. With its vast selection of over 150 popular brands, diverse dining options, exciting entertainment for kids, and top-notch services, Cevahir Mall promises an unforgettable experience for every visitor.
Exploring Cevahir Mall on your own is undoubtedly a delightful adventure, but for those seeking a truly immersive and insightful experience, we encourage you to consider a guided shopping tour. A guided tour allows you to make the most of your time, discover hidden gems, and take advantage of exclusive offers and insider tips.
From navigating the maze of shops to discovering the latest fashion trends and must-have items, a knowledgeable guide will ensure you don't miss out on anything. Additionally, they can assist you with language barriers, cultural nuances, and provide local recommendations to make your visit even more memorable.
So, whether you're a fashion enthusiast, a tech-savvy shopper, or simply looking to immerse yourself in the vibrant atmosphere of Istanbul Cevahir Mall, a guided shopping tour can elevate your experience to new heights.
Prepare to indulge in a world of fashion, dining, and entertainment at Istanbul Cevahir Mall – a place where shopping dreams come true and cherished memories are created. Come and experience the magic of Cevahir Mall, and let its splendor leave a lasting impression on your heart.
Begin your journey of retail bliss, and let Istanbul Cevahir Mall enchant you with its boundless possibilities and endless delights. Happy shopping!