About the grand bazaar in Istanbul
Nestled in the heart of Istanbul, The Grand Bazaar is a world-renowned shopping destination that attracts millions of visitors every year. With over 4,000 shops, the bazaar is a true labyrinth of colors, scents, and sounds. As one of the oldest and largest covered markets in the world, The Grand Bazaar has been a hub of commerce and culture for centuries, offering visitors an unforgettable shopping experience. Whether you're looking for unique souvenirs, traditional Turkish crafts, or luxurious textiles, The Grand Bazaar is a must-visit destination that will leave you enchanted by its vibrant energy and rich history.
How old is the grand bazaar?
The Grand Bazaar, known locally as Kapalıçarşı, is one of the oldest and largest covered markets in the world, located in the heart of Istanbul, Turkey. Its origins date back to the 15th century, when the Ottoman Empire was at the height of its power and wealth. The bazaar was established shortly after the Ottoman conquest of Constantinople in 1453, as part of Sultan Mehmed II's efforts to create a thriving commercial center in the city.
Originally, the Grand Bazaar consisted of a small number of shops selling textiles and other goods. Over time, however, it expanded dramatically, and by the 17th century it had become a vast complex of over 60 streets, 22 entrances, and more than 4,000 shops. It was a hub of trade and commerce, attracting merchants and customers from all over the world.
Today, the Grand Bazaar remains one of the most popular destinations for tourists visiting Istanbul, offering a unique shopping experience that is unlike anything else in the world. The market is home to a dizzying array of shops and stalls selling everything from traditional Turkish carpets and textiles to jewelry, ceramics, and spices. The atmosphere is vibrant and colorful, with the sound of bargaining and haggling filling the air as vendors and customers engage in lively negotiations.
Despite its age and size, the Grand Bazaar has managed to adapt to the modern world, and many of its shops now offer modern goods and services alongside traditional items. In recent years, the market has also undergone extensive renovations to preserve its historic architecture and make it more accessible to visitors.
Where is the grand bazaar?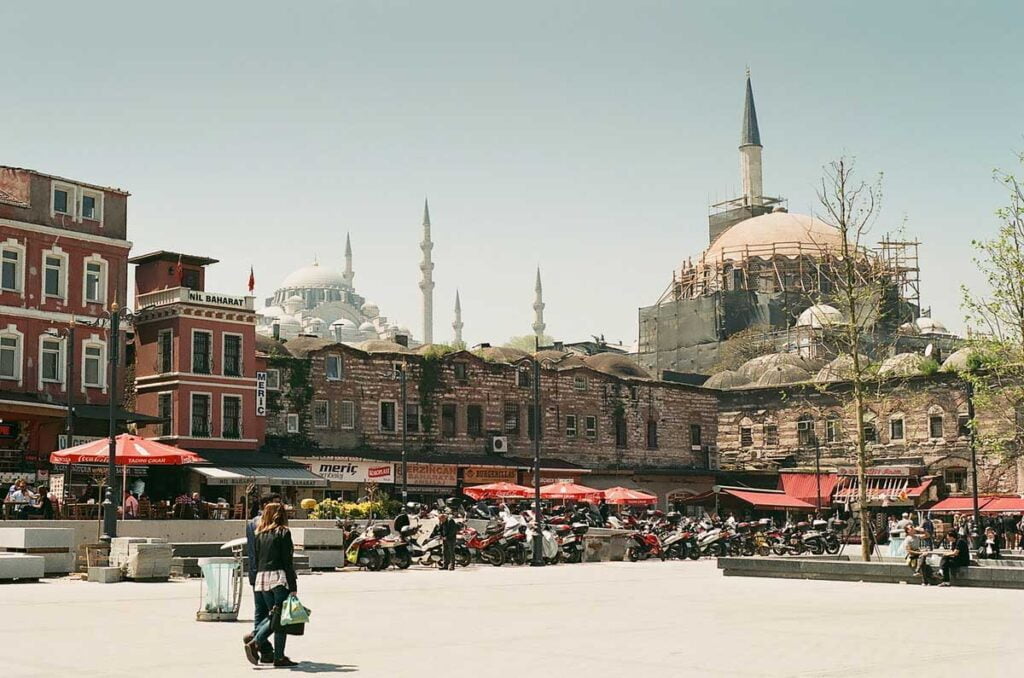 The Grand Bazaar, one of Istanbul's most famous landmarks, is located in the heart of the city, specifically in the Beyazıt, Mercan and Nuruosmaniye districts, which make up the Historical Peninsula of Istanbul. The market has been situated in this location for centuries and has become an integral part of Istanbul's cultural heritage.
How to go to grand bazaar ?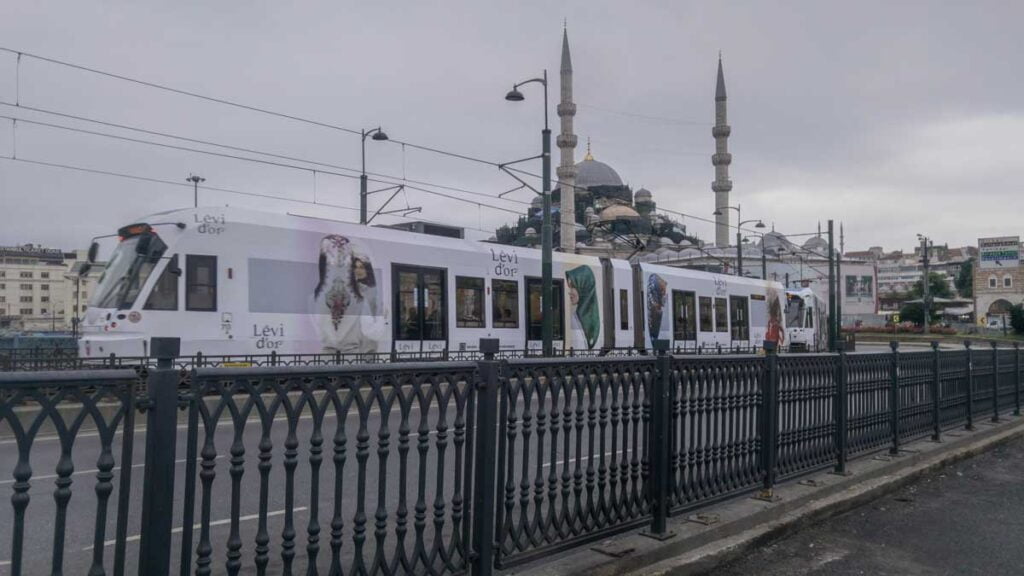 One of the easiest ways to access the Grand Bazaar is through the Beyazit gate, which is located just across from the Beyazit tram station. This entrance is one of the most popular gateways to the bazaar and is recognizable by its striking arches and intricate carvings. From there, visitors can navigate through the maze of streets and alleys that make up the bazaar, taking in the sights and sounds of this bustling market.
For those who prefer to travel by car, there are also several parking options available near the Grand Bazaar. However, keep in mind that the bazaar is located in a busy part of the city, so parking spaces may be limited and traffic can be heavy. It is advisable to plan ahead and arrive early to avoid any delays.
In addition to its central location, the Grand Bazaar is also easily accessible by public transportation. In addition to the Beyazit tram station, which is located just outside the main entrance, there are several bus stops and metro stations located nearby. This makes it easy for visitors to reach the bazaar from any part of the city, whether they are staying in a nearby hotel or simply visiting as part of a day trip.
Shopping in grand bazaar Istanbul
As mentioned above, the Grand Bazaar is considered one of the largest covered markets in the world, with around 4,000 shops to explore. Expect to leave the bazaar with more than just memories, as the unique shopping experience and wide range of products will entice you to make purchases that will serve as lasting reminders of your visit to Istanbul.
Here are some of the top things to buy when you visit the Grand Bazaar:
1. Turkish Carpets and Rugs: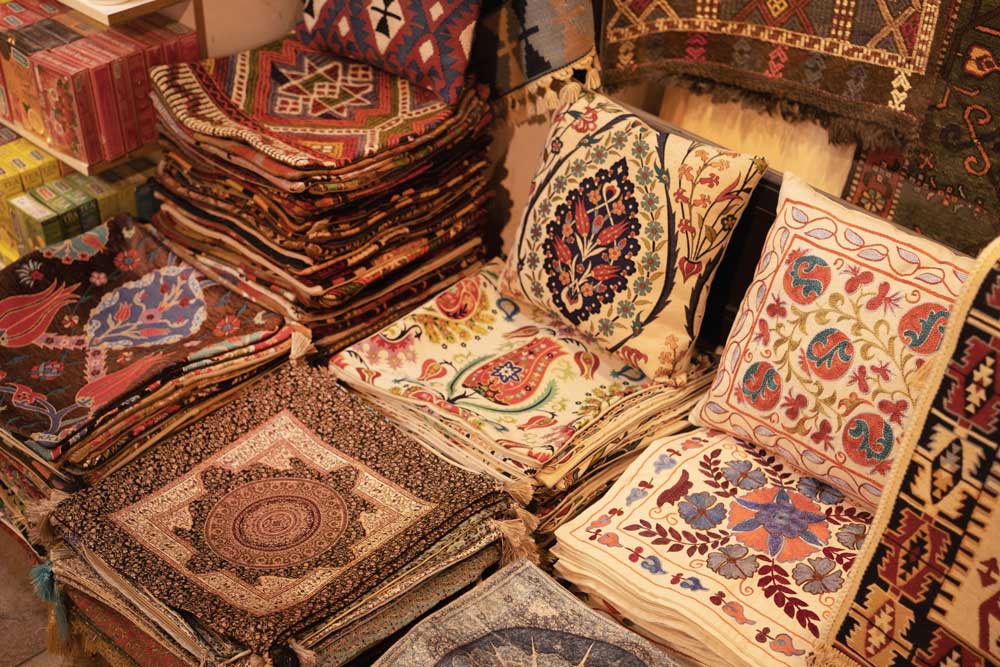 One of the most iconic and popular items in the Grand Bazaar are the traditional Turkish carpets and rugs. These handmade treasures come in a variety of styles, sizes, and colors, and are known for their quality and intricate designs. They make for a great addition to any home and serve as a long-lasting reminder of your trip to Istanbul.
Another popular item to buy in the Grand Bazaar is Turkish Delight, or lokum. This delicious confectionery comes in various flavors such as rose, pistachio, and lemon. It makes for a great gift to bring back to friends and family or to indulge in yourself as a sweet treat.
3. Turkish Tea and Coffee
ou can find a variety of tea and coffee shops in the Grand Bazaar, selling different blends of Turkish coffee and tea leaves. Turkish coffee is known for its strong flavor and is typically served with a piece of Turkish Delight. Turkish tea is also a staple in Turkish culture and is typically served in small glasses.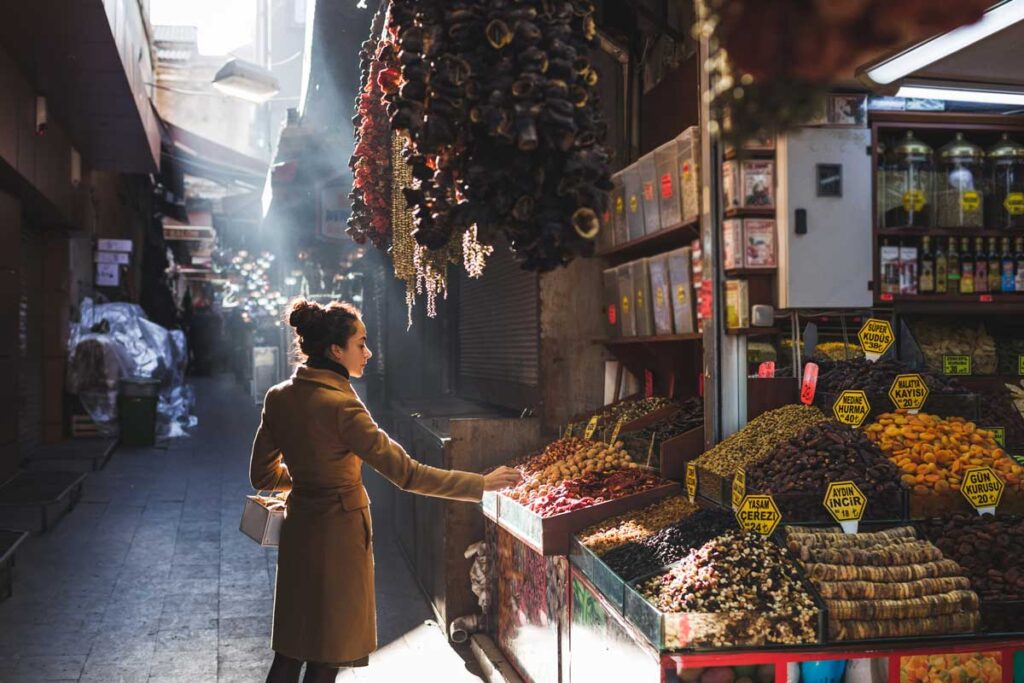 Spices and Herbs: The Grand Bazaar is a great place to find a variety of spices and herbs that are commonly used in Turkish cuisine. From dried chili peppers to saffron, you can find a range of flavors to take back home and experiment with in your own cooking.
Turkey is known for its beautiful and intricate ceramics, and the Grand Bazaar is a great place to find a wide variety of pottery, including plates, bowls, and vases. The designs are often inspired by Turkish culture and history, making them not only functional but also decorative.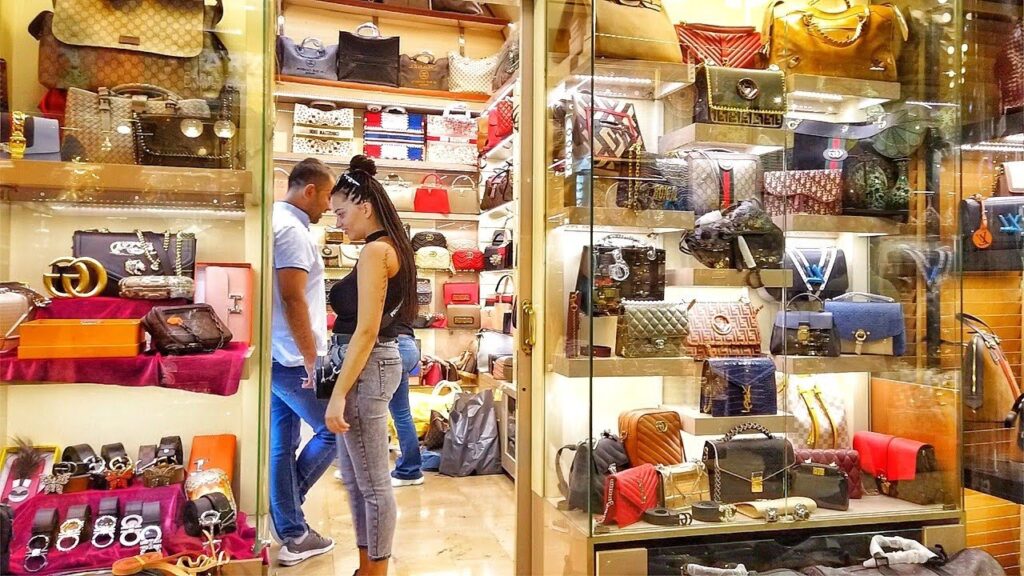 The Grand Bazaar is also home to a wide range of leather goods, including handbags, wallets, and belts. Turkey is known for its high-quality leather, and the Grand Bazaar offers an array of options at varying price points.
7. Gold and Silver Jewelry
The Grand Bazaar is also known for its jewelry shops, where you can find a range of gold and silver pieces. From simple earrings to more intricate necklaces and bracelets, you are sure to find something that catches your eye.
The Grand Bazaar in Istanbul is a shopper's paradise with an abundance of unique and traditional items to choose from. Whether you are looking for souvenirs or to treat yourself to something special, the Grand Bazaar has something for everyone.
Furthermore, the area surrounding the market is a top tourist destination, so you can expect to find shopping stores and their diverse products in every corner of the area. From traditional handicrafts to modern fashion, the Grand Bazaar and its surrounding area offer an endless variety of items to choose from.