Venezia Mega Outlet in Istanbul: A Shopper's Paradise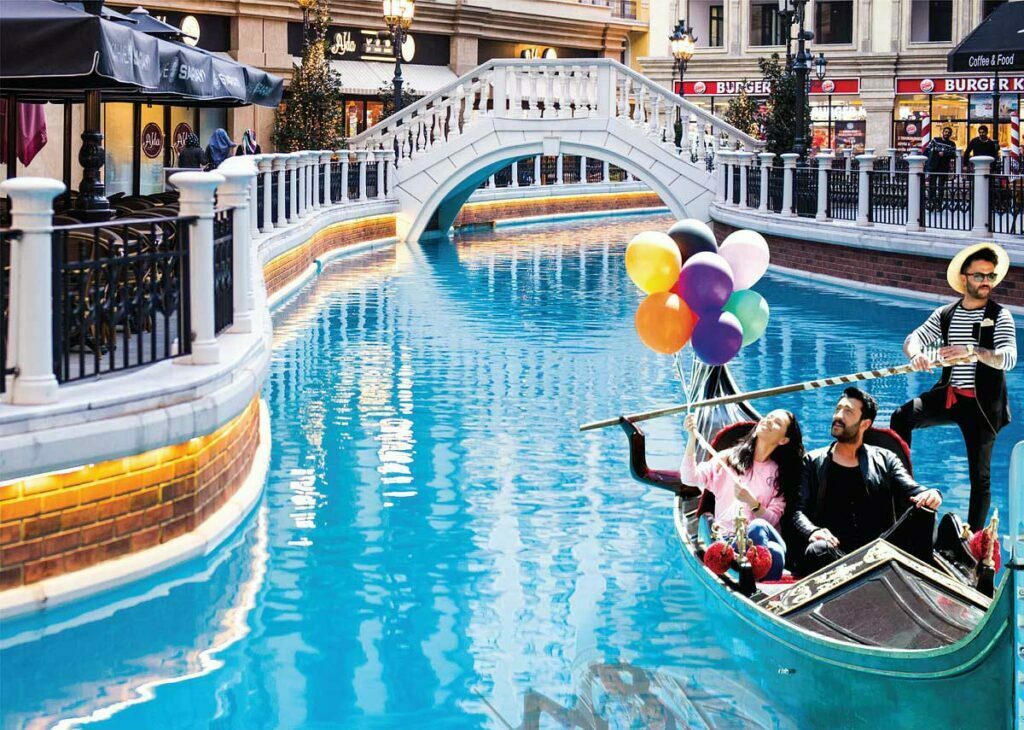 If you're a shopaholic visiting Istanbul, you won't want to miss out on the Venezia Mega Outlet, one of the largest and most popular and
best shopping malls in Istanbul
. Located in the Esenyurt district on the European side of Istanbul, the Venezia Mega Outlet offers an unparalleled shopping experience, with over 300 stores offering discounts of up to 70% off regular retail prices.
The outlet's Italian-inspired architecture creates a stunning setting for shopping, with wide streets, grand arches, and a central piazza that serves as a hub for entertainment and events. Shoppers can browse through an extensive collection of high-end fashion brands, including Armani, Versace, Gucci, and Dolce & Gabbana, as well as more affordable options like H&M, Zara, and Mango.
Aside from fashion, the outlet also features a range of stores selling electronics, home appliances, and furniture, making it a one-stop-shop for all your needs. With a food court that offers a variety of cuisines and a large supermarket, the Venezia Mega Outlet is also a great place to stock up on groceries and other essentials.
Getting to the Venezia Mega Outlet is easy, as it is accessible by public transportation. Visitors can take the metrobus from central Istanbul and get off at the Haramidere stop, which is just a short walk from the outlet. Alternatively, taxis are readily available throughout the city and can take you directly to the outlet.
Where is Venezia Mega Outlet mall?
Venezia Mega Outlet mall is located in Istanbul, Turkey. Specifically, it is located in the Güngören district on the European side of the city. The exact address is Küçükköy, Karadeniz Mahallesi Eski Edirne Asfaltı, Metris Kavşağı No:408, 34250 Gaziosmanpaşa/İstanbul
How to go to Venezia Mega Outlet mall?
Shopping in Venezia Mega Outlet mall
With over 300 stores Venezia Mega Outlet offering a wide range of local and international brands. The mall covers an area of 200,000 square meters, with a mix of indoor and outdoor shopping areas.
At Venezia Mega Outlet mall, shoppers can find various types of products, including clothing, shoes, accessories, cosmetics, electronics, homeware, and sports equipment. The mall features both high-end luxury brands and more affordable options, catering to a variety of tastes and budgets.
In addition to shopping, the mall also offers a range of entertainment options, including a cinema, a bowling alley, and a play area for children. There are also numerous restaurants and cafes where shoppers can take a break and enjoy a meal or a drink.
The mall provides visitors with ample parking space and has a shuttle service to transport customers to and from the mall. Venezia Mega Outlet mall is open every day from 10:00 am to 10:00 pm, making it a convenient shopping destination for locals and tourists alike.
Services of Venezia Outlet Shopping Mall in Istanbul?
At Venezia Mega Outlet, there are plenty of services and facilities to ensure visitors have a hassle-free and enjoyable shopping experience. If you need cash, you can rest assured that there are about 10 famous Turkish banks with ATM services available at the mall, ensuring you won't have any cash or deposit problems. Additionally, international cards such as MasterCard are also accepted for withdrawals.
The mall also features a Missing Items Center, located around San Marco Square, where visitors can track lost devices and other lost items. If you happen to find any lost items, be sure to deliver them to this center to help find their rightful owner.
For disabled visitors, wheelchairs are provided as a complimentary service. This shopping center is dedicated to ensuring all visitors have equal access to its amenities and services. To obtain a wheelchair, simply present your ID card and you'll be assisted.
For those looking for entertainment, the Venezia Mega Outlet boasts nine movie theaters where visitors can enjoy a range of films, including Hollywood movies. The mall is also home to a beautiful mosque, providing a place of worship for those who want to offer their prayers.
Whether you need to withdraw cash, lost and found services, wheelchair assistance, or simply looking to catch a movie or offer your prayers, Venezia Mega Outlet has you covered. With its wide range of services and facilities, visitors can relax and enjoy their shopping experience without any worries.
Venezia mega outlet stores
Here is a list of shops at Venezia Mega Outlet Mall in Istanbul:
Armani
Burberry
Calvin Klein
Dolce & Gabbana
Ermenegildo Zegna
Gucci
Hugo Boss
Michael Kors
Polo Ralph Lauren
Prada
Salvatore Ferragamo
Versace
Adidas
Aldo
Armani Outlet
Atasay Jewelry
Bagdat Caddesi
Beymen Club
Beymen Outlet
Bilstore
Boss Outlet
Burberry
Calvin Klein Jeans
Cacharel
Celine
Clarks
Columbia
Converse
Damat Tween
DeFacto
Desa
Diesel
DKNY
Dolce&Gabbana
Fabrika
Fenerium
Fossil
GAP Outlet
Gizia
Gucci
Guess
İGS İstanbul Gold Souk
İnci Deri
İpekyol
Jimmy Choo
Kanz
Kappa
Karl Lagerfeld
Lacoste
Le Creuset
Lee Cooper
Levi's
Liu Jo
Loro Piana
Mango
Marc Jacobs
Mavi Jeans
Max Mara
Michael Kors
Mudo Outlet
Network
Nike Factory Store
Nine West
Okaidi
Ottoman Carpets
Outletium
Oxxo
Penti
Pierre Cardin
Pinko
Polo Ralph Lauren
Prada
Quiksilver
R&B
Roman
S.T. Dupont
Salvatore Ferragamo
Samsonite
Sarah Borghi
Sebago
Skechers
Socks Box
Swatch
Tod's
Tommy Hilfiger
Toyzz Shop
Twist
United Colors of Benetton
Us Polo Assn.
Vakko
Van Heusen
Vakko Home
Vavin
Versace
Victoria's Secret
Villeroy & Boch
W Collection
Wenger
Wepublic
Winx
Yargıcı
YKM
Zara
Zeytin Dali
Most frequently questions
There are several ways to get from Taksim to Venezia Mega Outlet.
One option is to take the metro. From Taksim, you can take the M2 metro line in the direction of Yenikapı. Get off at the Yenikapı station and transfer to the Marmaray line in the direction of Gebze or Halkalı. Get off at the Zeytinburnu station, and from there, take the T1 tram in the direction of Kabataş. Get off at the Mimar Sinan stop, which is the closest stop to Venezia Mega Outlet.
Another option is to take a taxi or ride-sharing service like Uber or Careem. This can be a more convenient option if you have a lot of luggage or if you're traveling with a group.
Finally, you can also take a bus. From Taksim, you can take the 80T or 36T bus in the direction of Topkapı or Zeytinburnu, respectively. Get off at the Zeytinburnu station and take the T1 tram to the Mimar Sinan stop.
No matter which option you choose, the journey from Taksim to Venezia Mega Outlet should take around 45 minutes to an hour depending on traffic and the mode of transportation you choose.
Venezia Mega Outlet Mall in Istanbul is known for its discounted prices on high-end luxury brands. It is a shopping destination for those looking for designer clothes, shoes, accessories, and cosmetics at affordable prices. The mall offers a variety of stores ranging from international luxury brands to local Turkish brands. In addition to shopping, the mall also provides various services such as ATMs, lost and found centers, wheelchair rentals, a mosque, and a cinema. The mall's unique architecture, which is inspired by the Italian city of Venice, also adds to its charm and allure.
The mall is open from 10:00 am to 10:00 pm every day of the week.